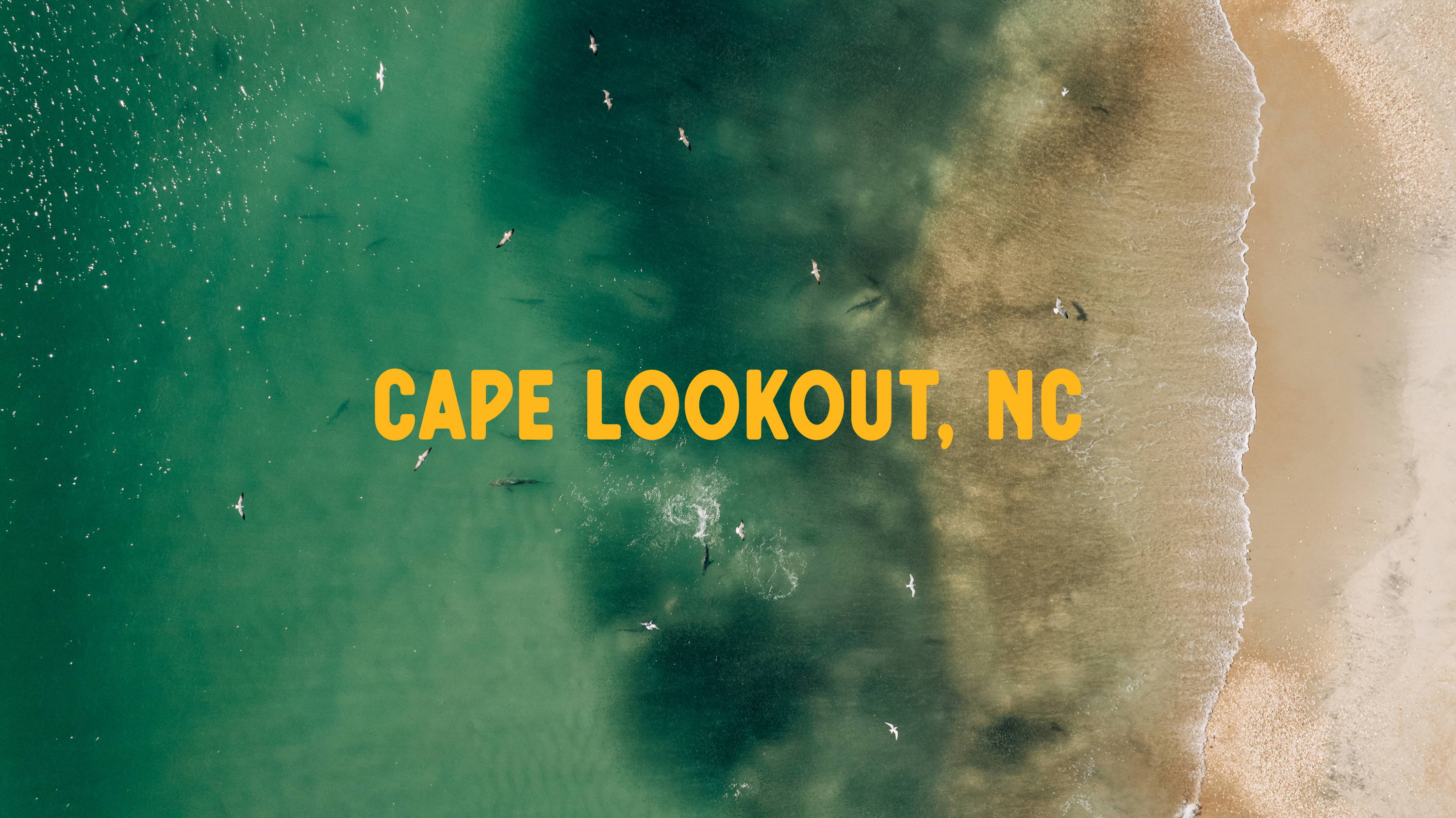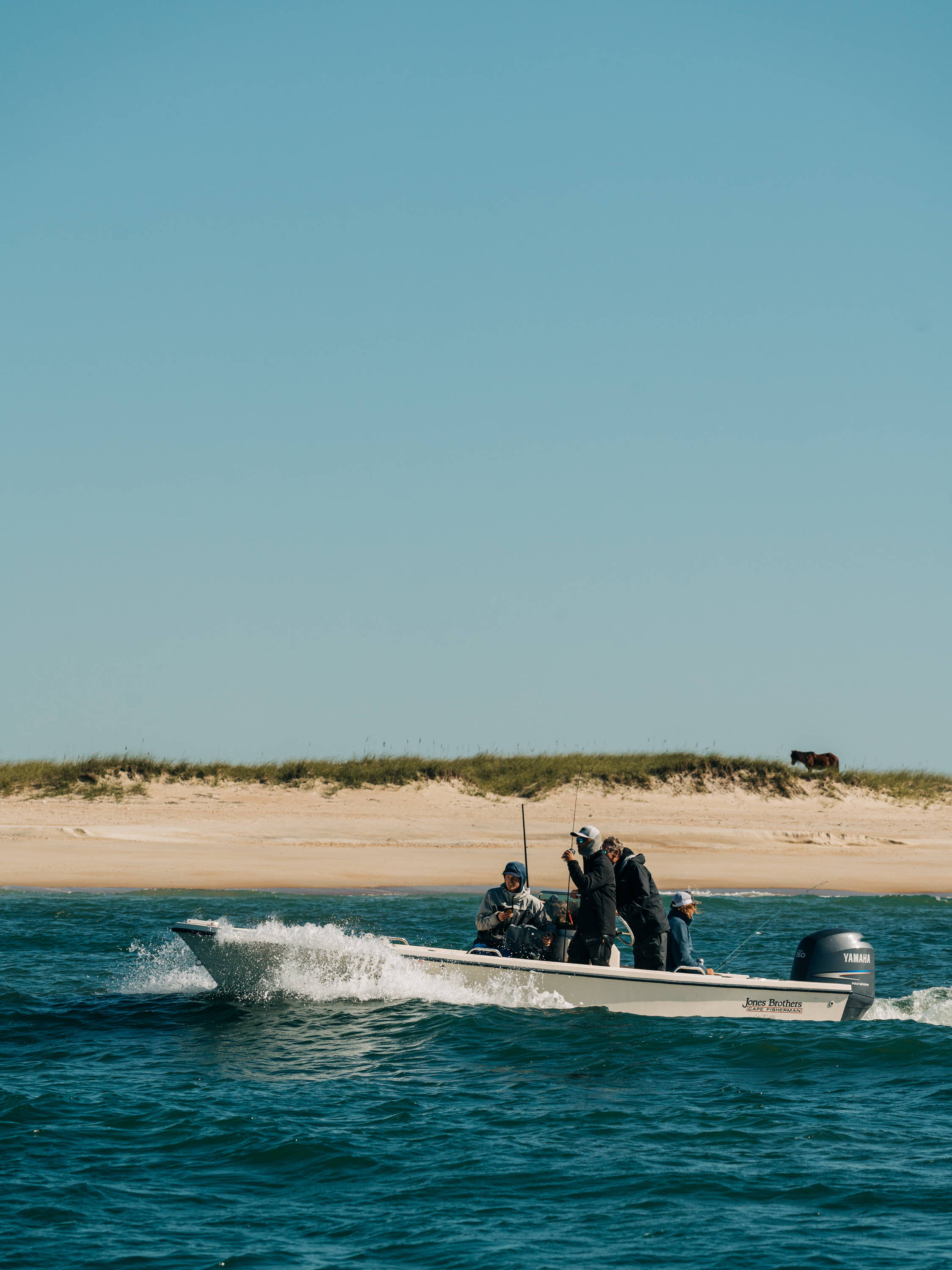 To put our newest gear to the test this Fall, we decided to stay a little closer to home.
We grabbed a couple of our wilder friends, packed the trucks up and made the short jaunt up north to meet a few good fellas in Cape Lookout, NC. We found ourselves roughing gnarly swells for false albacore, surfing a couple waves (and dunes), beach camping, and having a hell of a time doing it.
So, without further ado...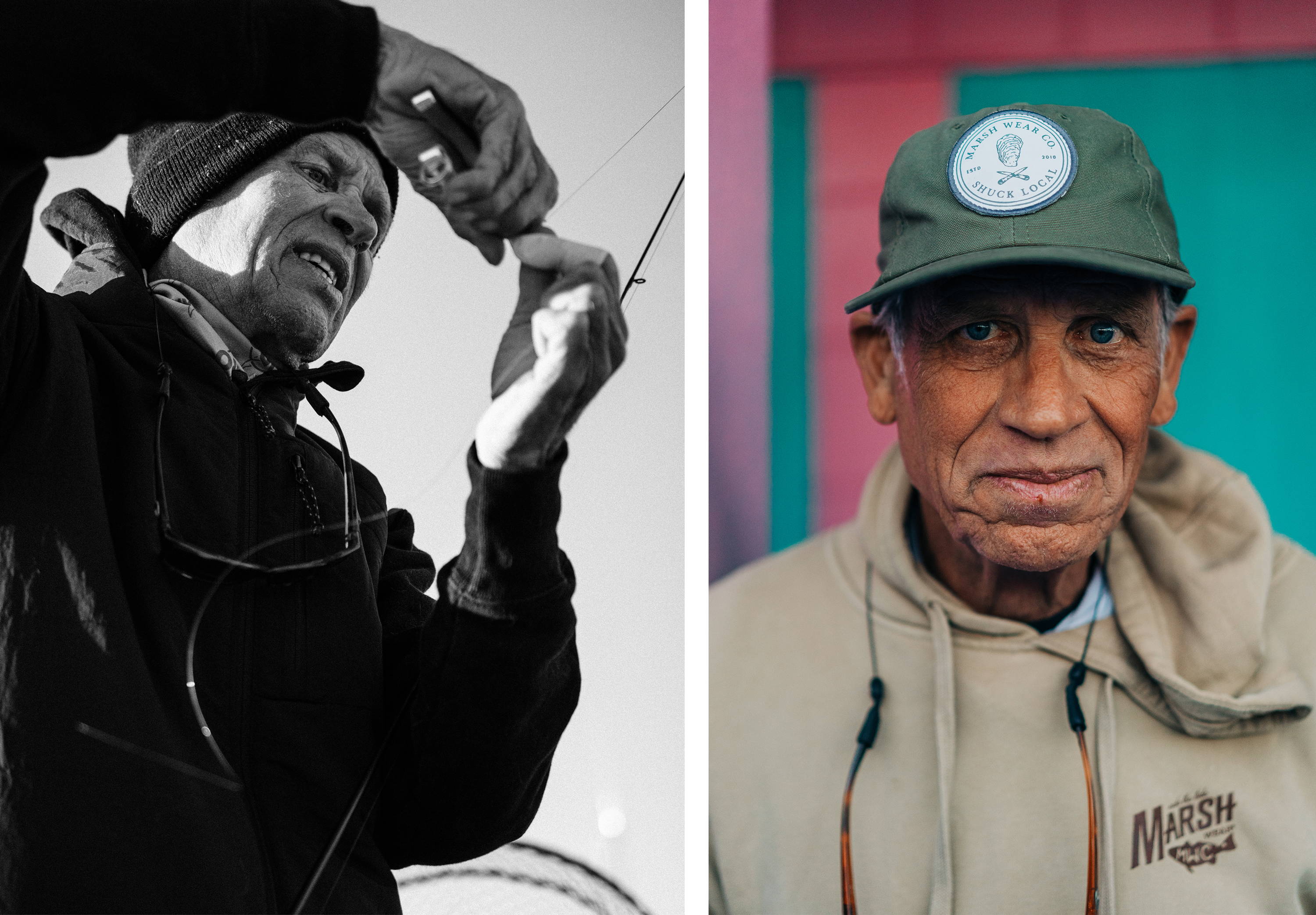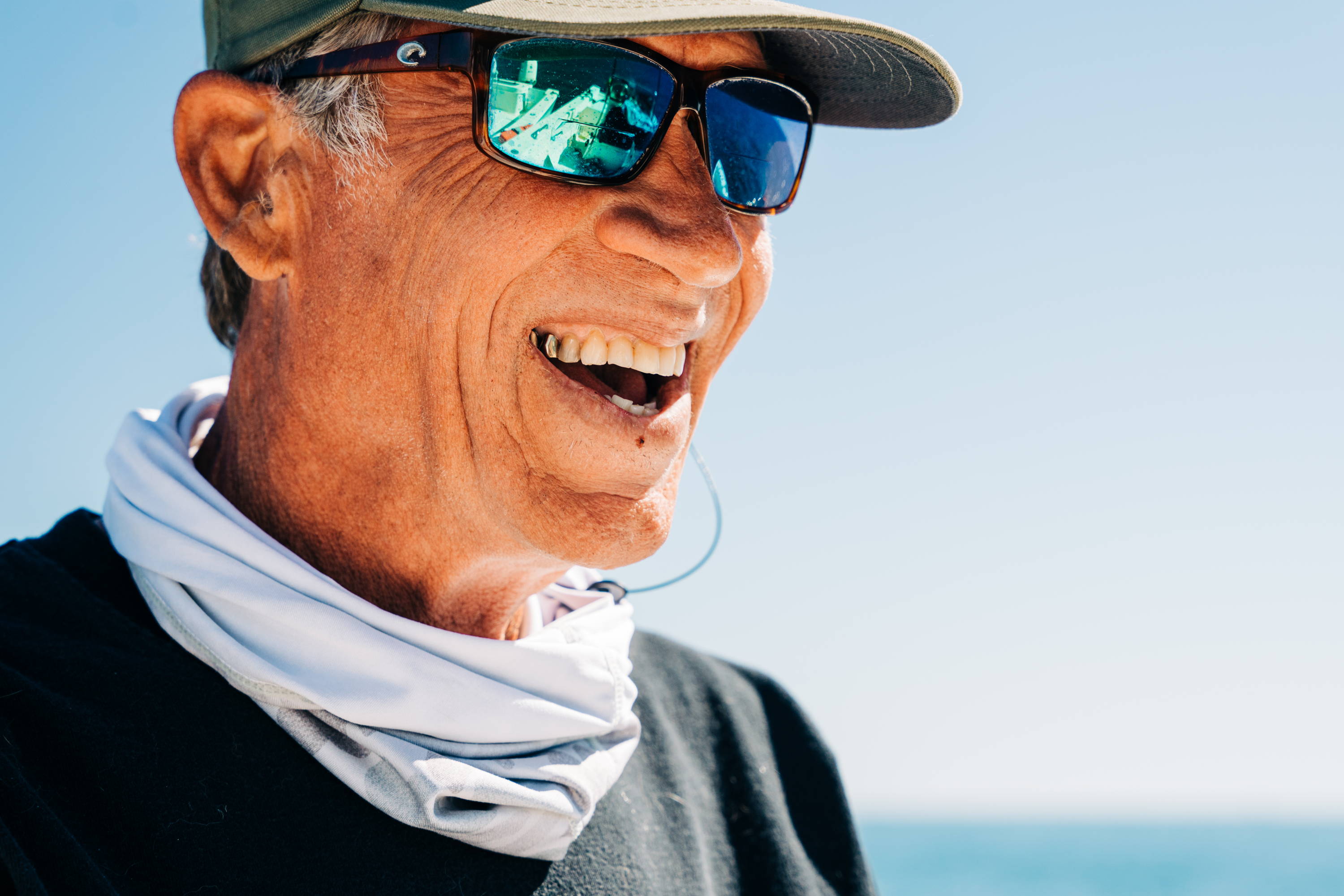 Captain David Rhode aka Rhodie.
A louder-than-life, smack-talkin' son of a gun, Rhodie's a pair of piercing blue eyes and a sly smile set on top of a wiry, tattoo-laden frame who's mind is set on one thing and one thing only: saltwater fly fishing. And more specifically, albies. His fly box is stacked tall with a single fly; all exact replicas of the next in varying sizes ranging from thumb-sized to the groutesquely large "can an albie even eat that?" size. Looking for someone to take you where the fishin' is hot and keep the entertainment factor high when it's not? There's no reason to look too much further than Captain David Rhodes.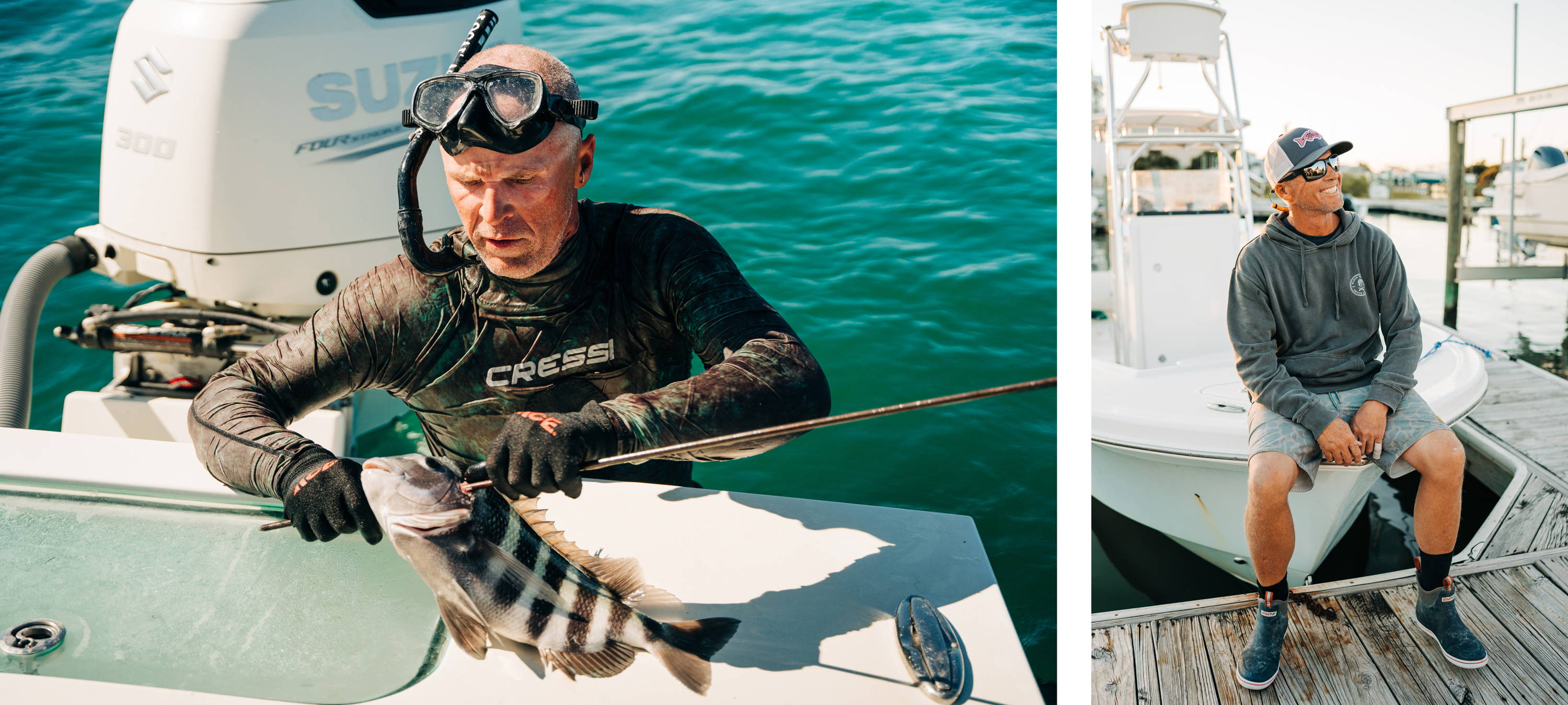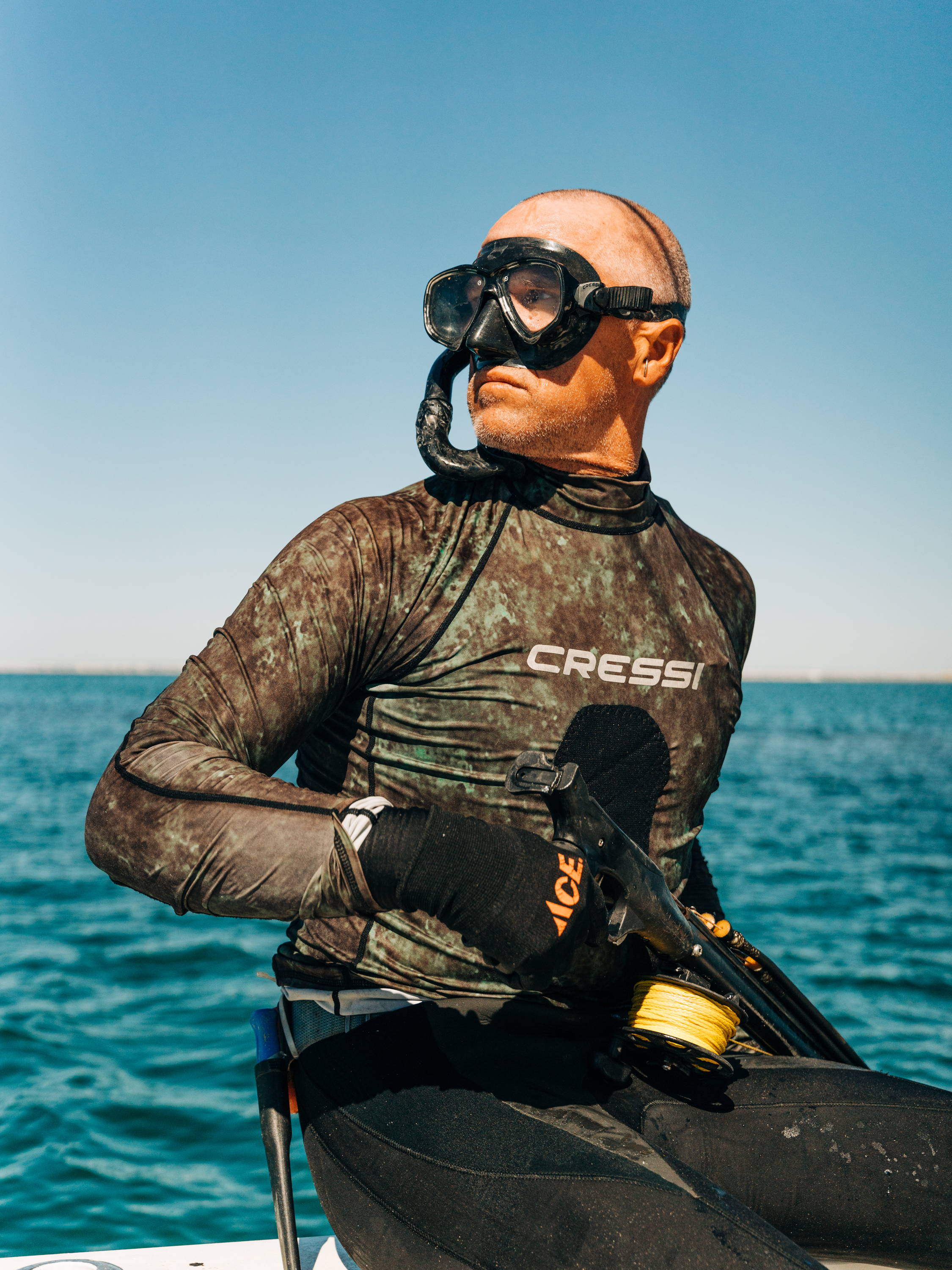 Captain Ben Morris
In stark contrast from Rhodie, while still complementing eachother nicely, Capt. Ben's a soft-spoken and laidback Morehead City native with a propensity for catching fish by whatever means necessary — to include midnight trout fishing via kayak and spearfishing shark-ridden jetties for sheepshead (the latter of which we were easily coaxed into participating in).
If you're looking for someone to keep the bite going no matter what, and maybe hop in the water along the way, you'll probably be calling Captain Ben Morris.
A test of many casts and the strength of your drag.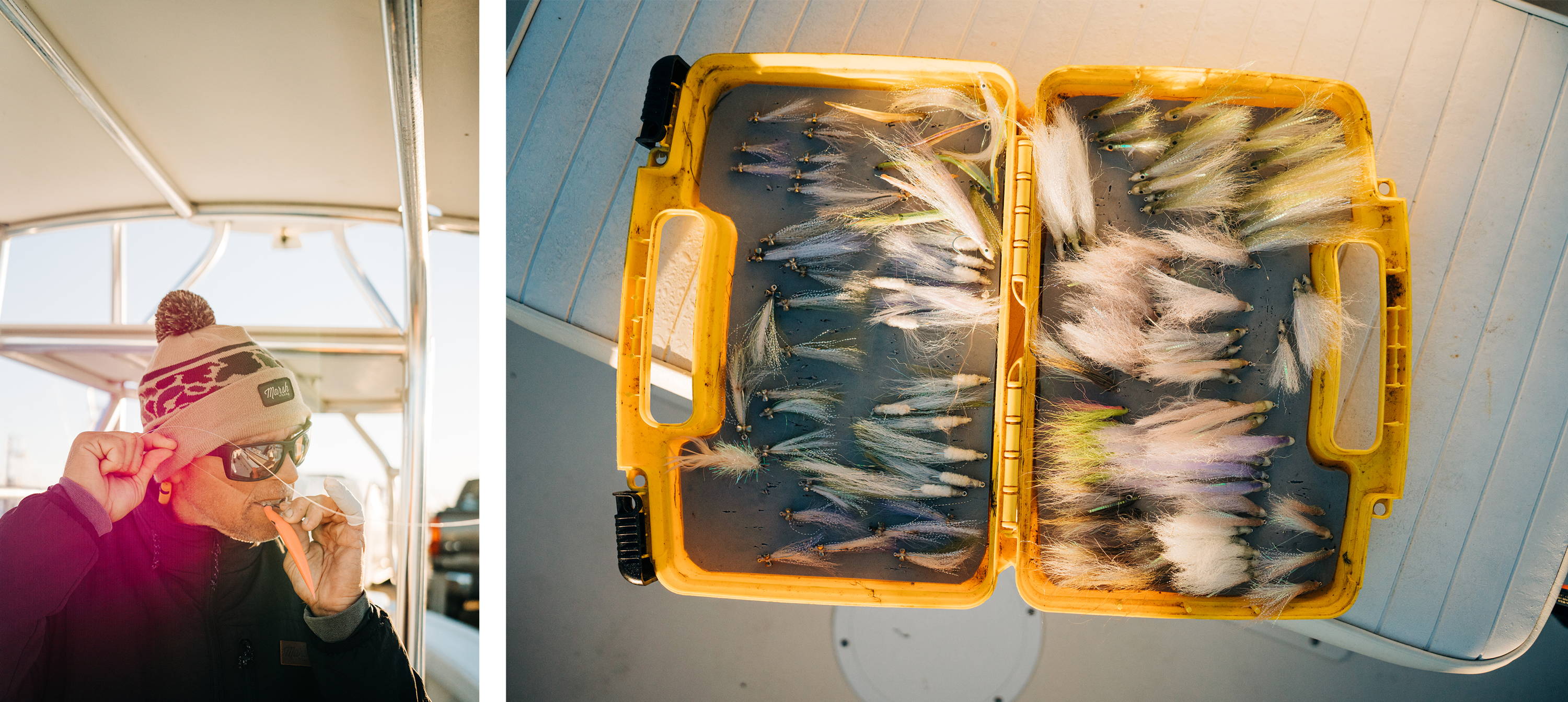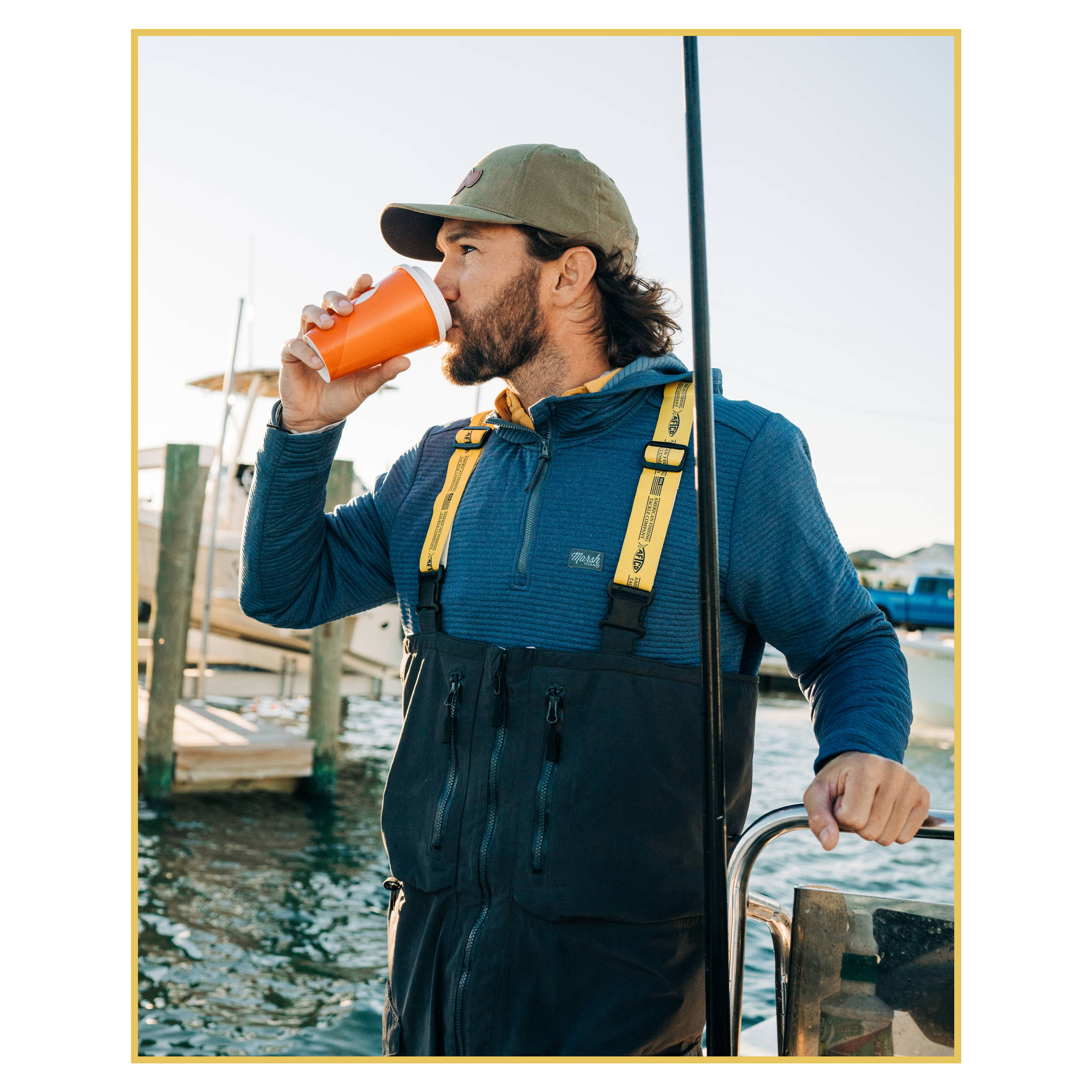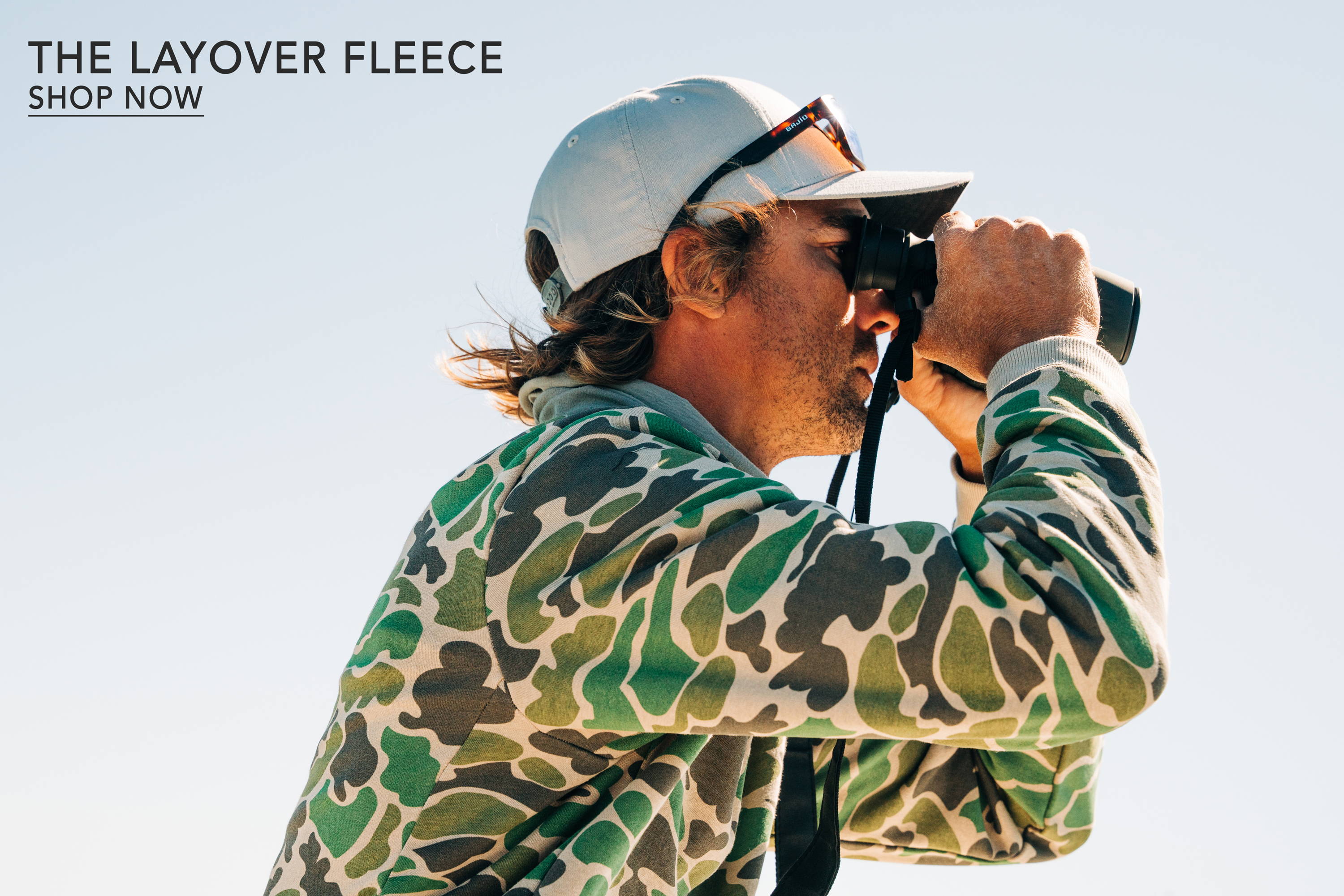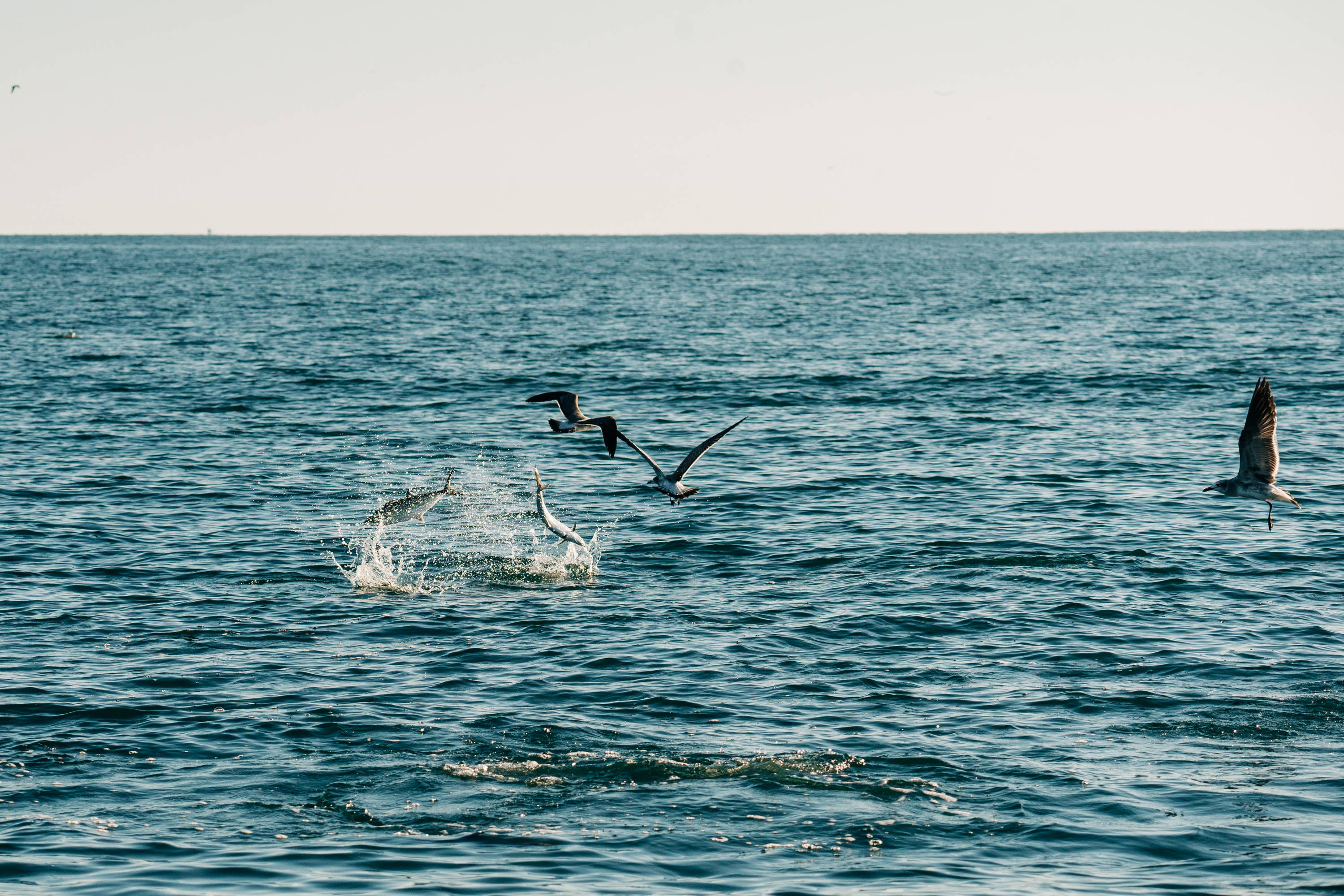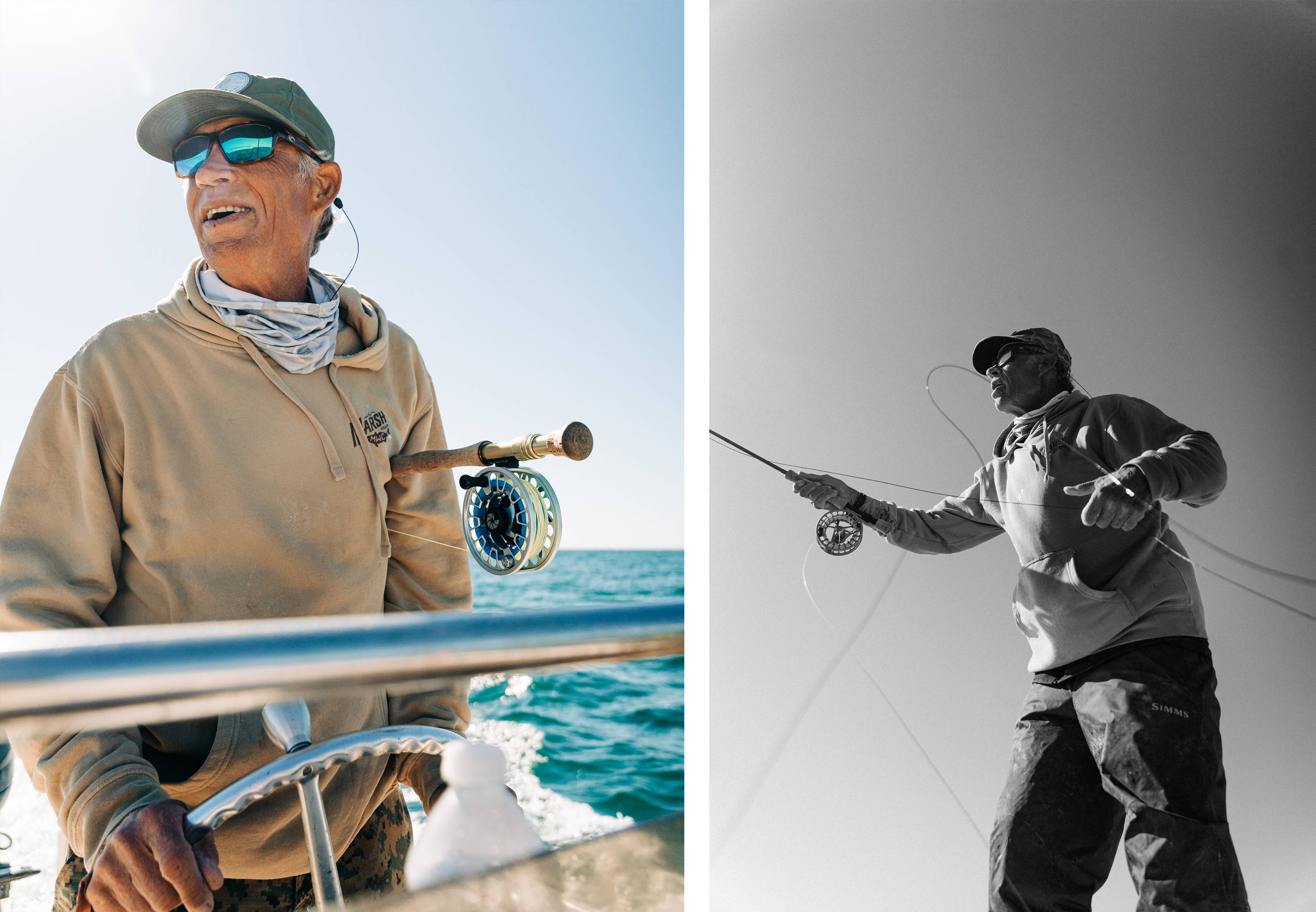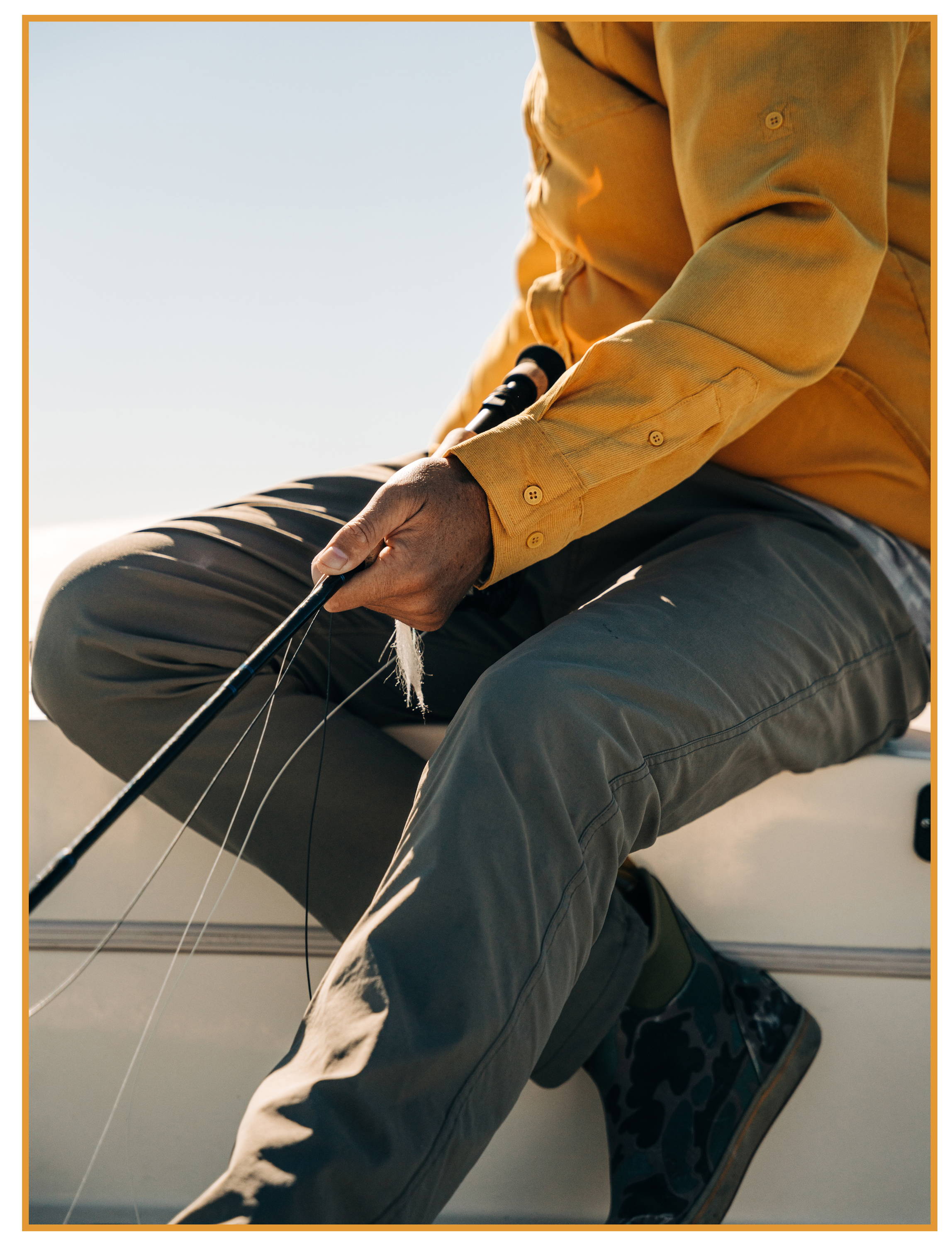 With deep blue waters and cloudless skies, mother nature would have lead anyone to believe she wasn't as angry as she really was. Our first day of fishing was met with rollers, white caps, and plenty of wind burn across our cheeks. To put it lightly, it was downright sh**ty out. Nonetheless, Rhodie gripped the steering wheel like a MLB player about to hit a home run and pounded into each wave with a jarring crunch as the bow plowed downwards, sending frothed streams of saltwater skyward. We winced a bit, he just kept his eye on that ball.
Day two was much kinder. Calm seas prevailed and fish ran a-plenty as they recovered from the beatdown of the previous day. With more than enough hookups between albies, spanish, and blue fish we put our guides' flies up to the litmus test of toothy sea creatures. No complaints here...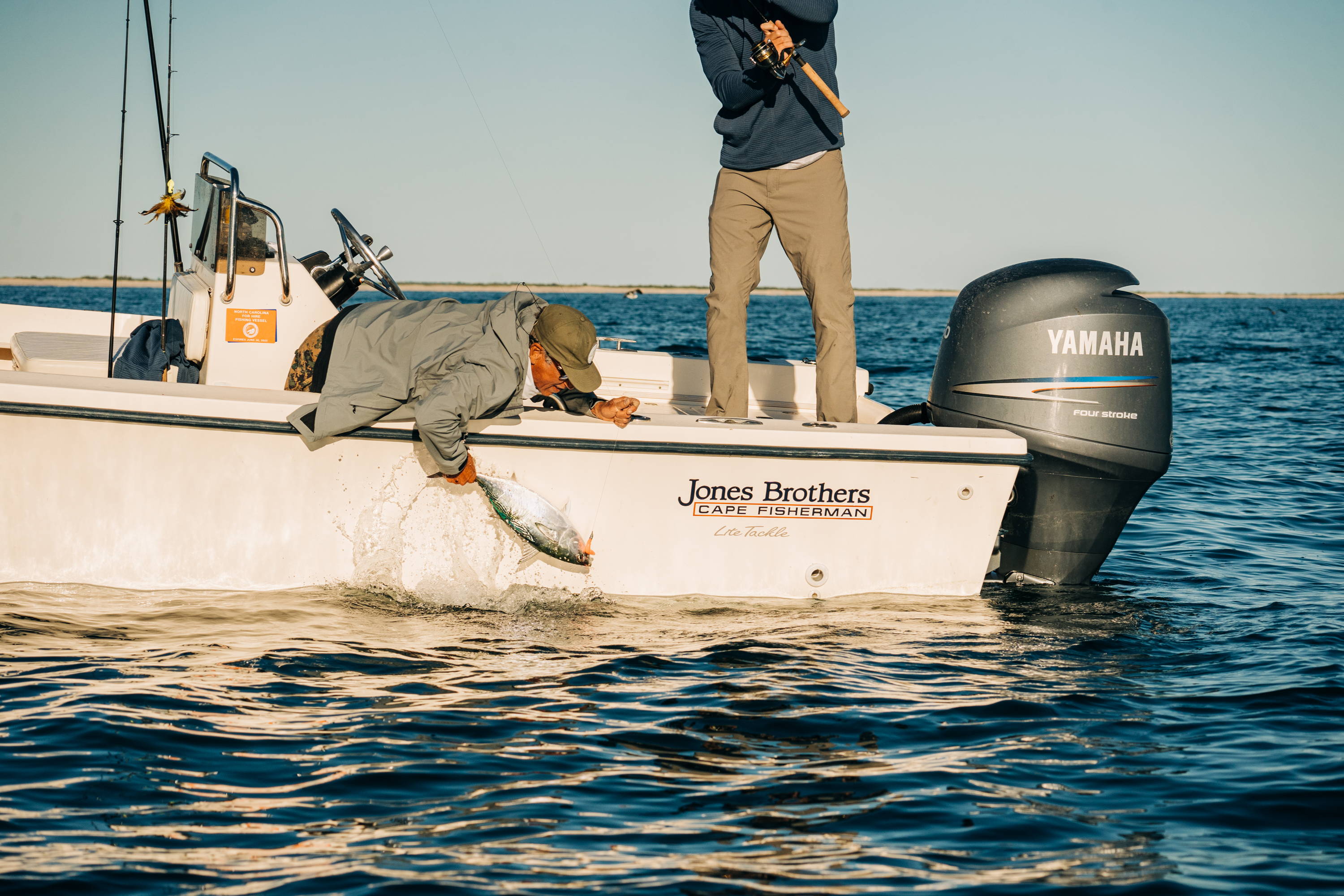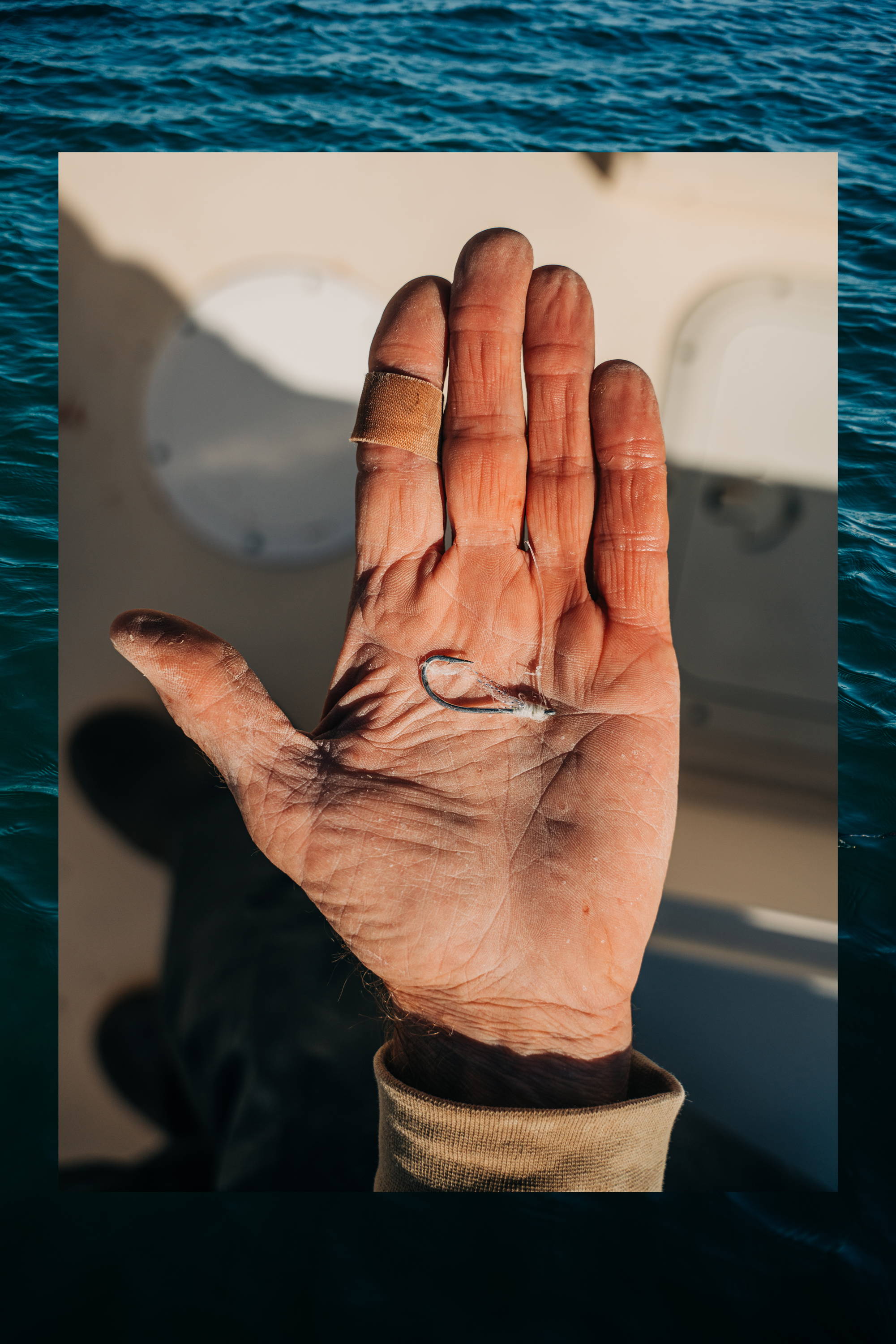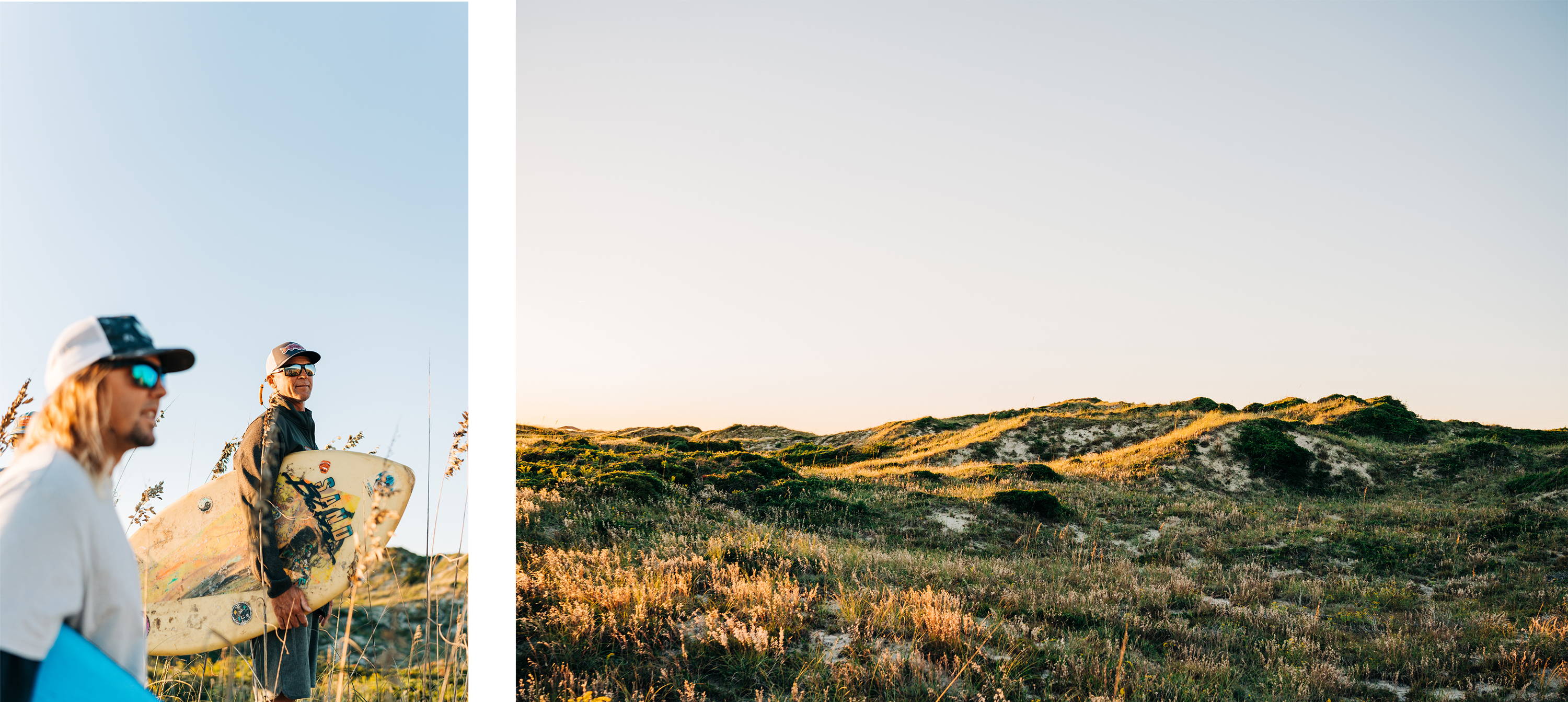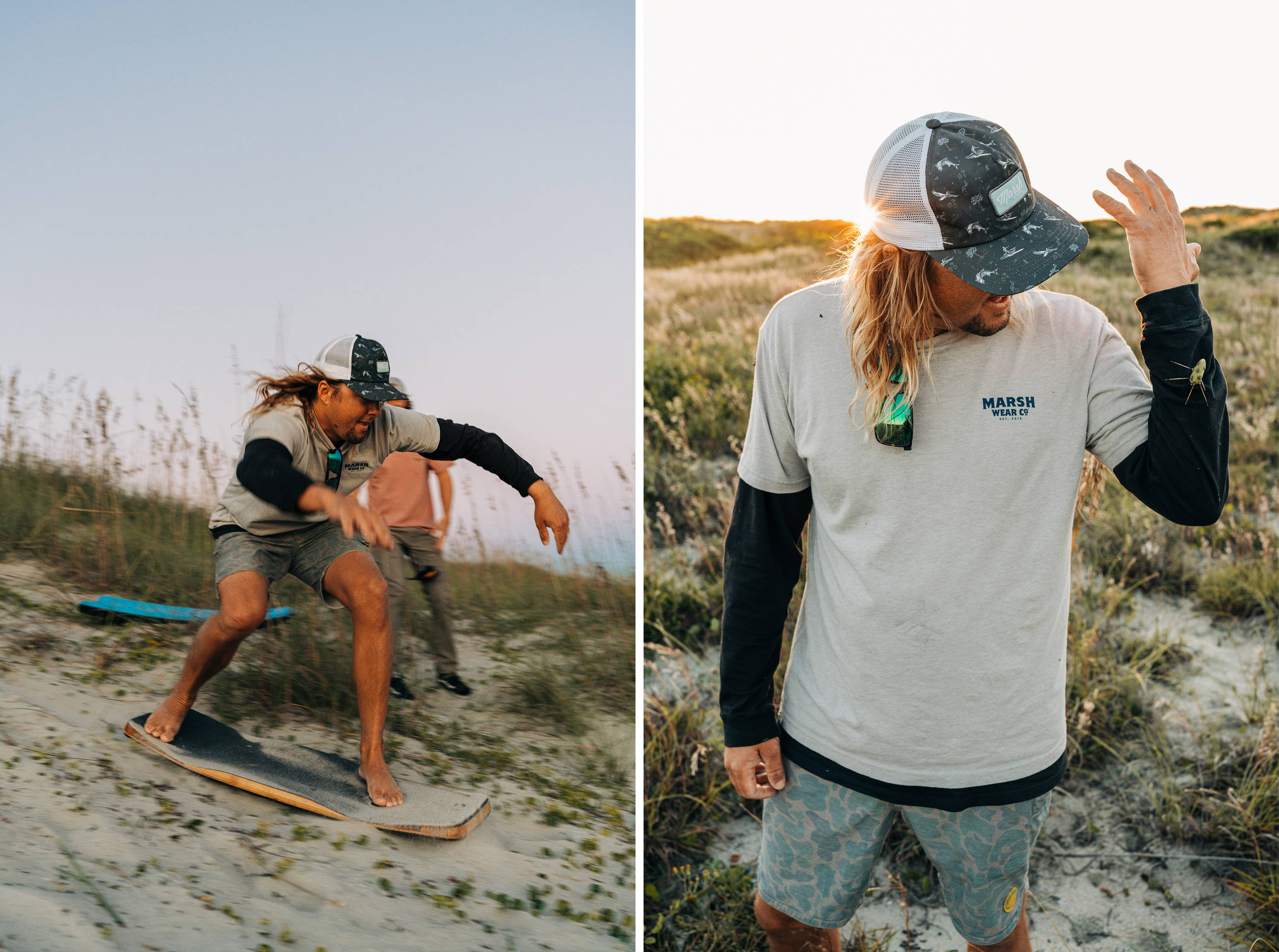 Dune surfing added a nice transistion between fishing days and kept the gang busy while the wind settled and the grill fired up.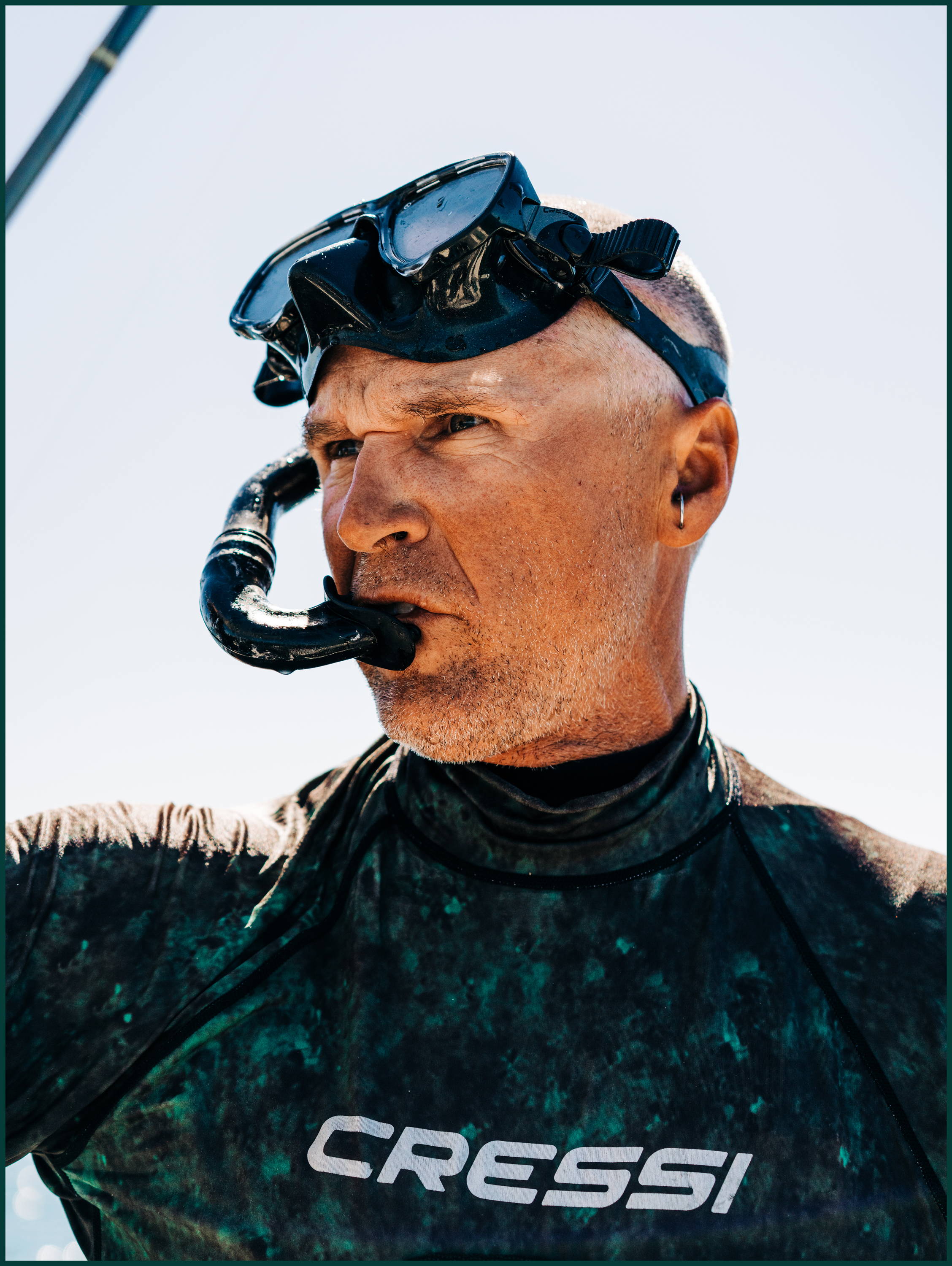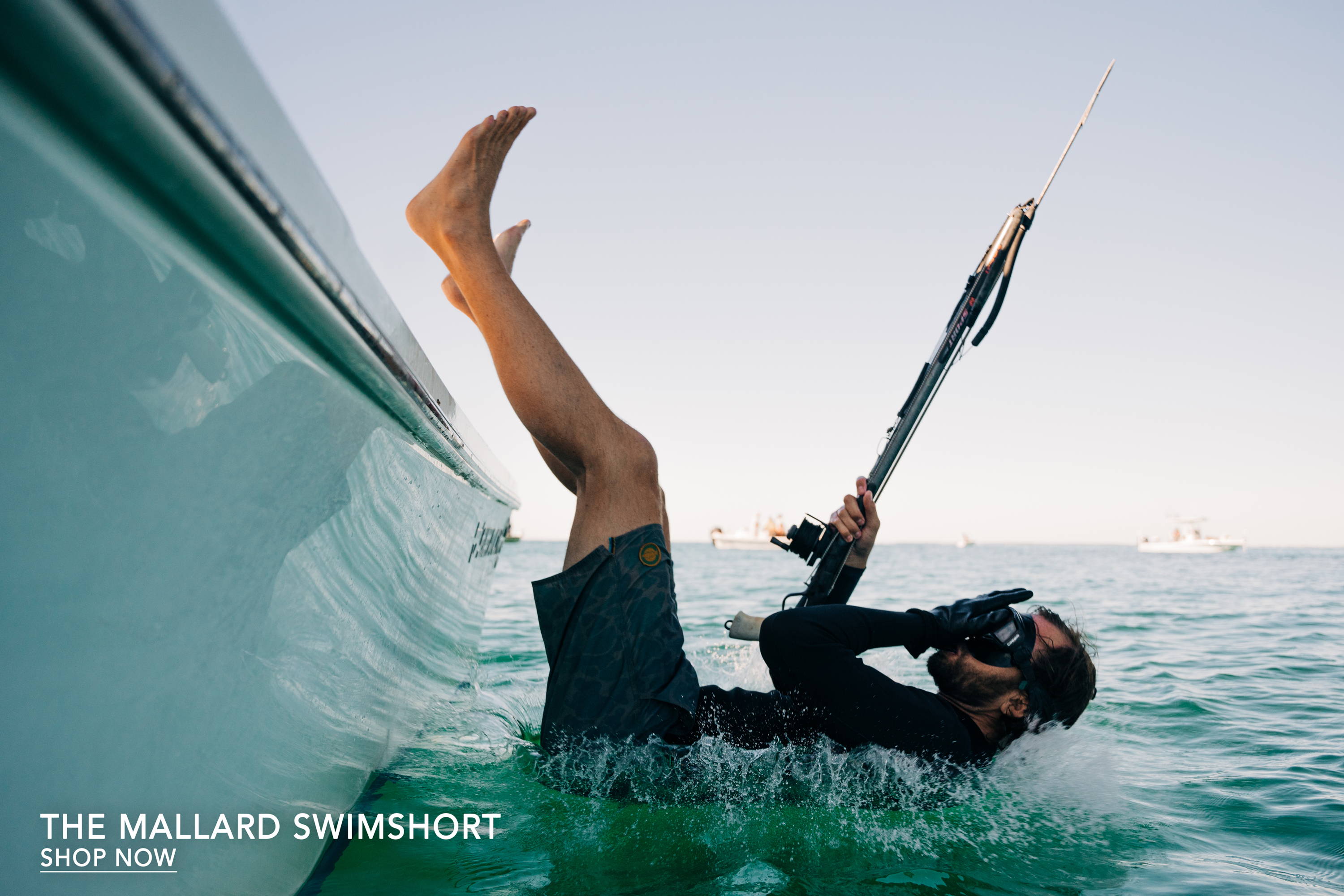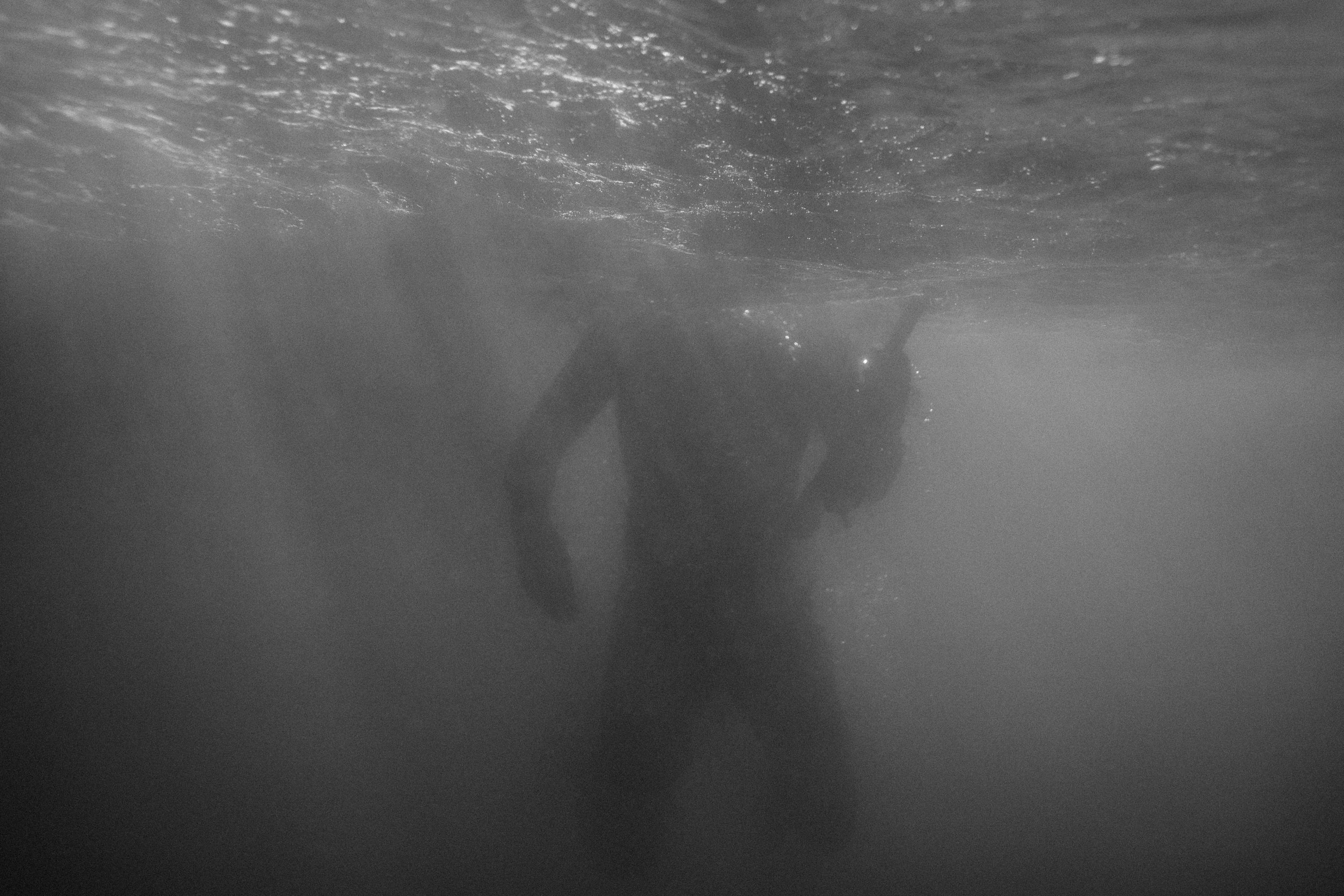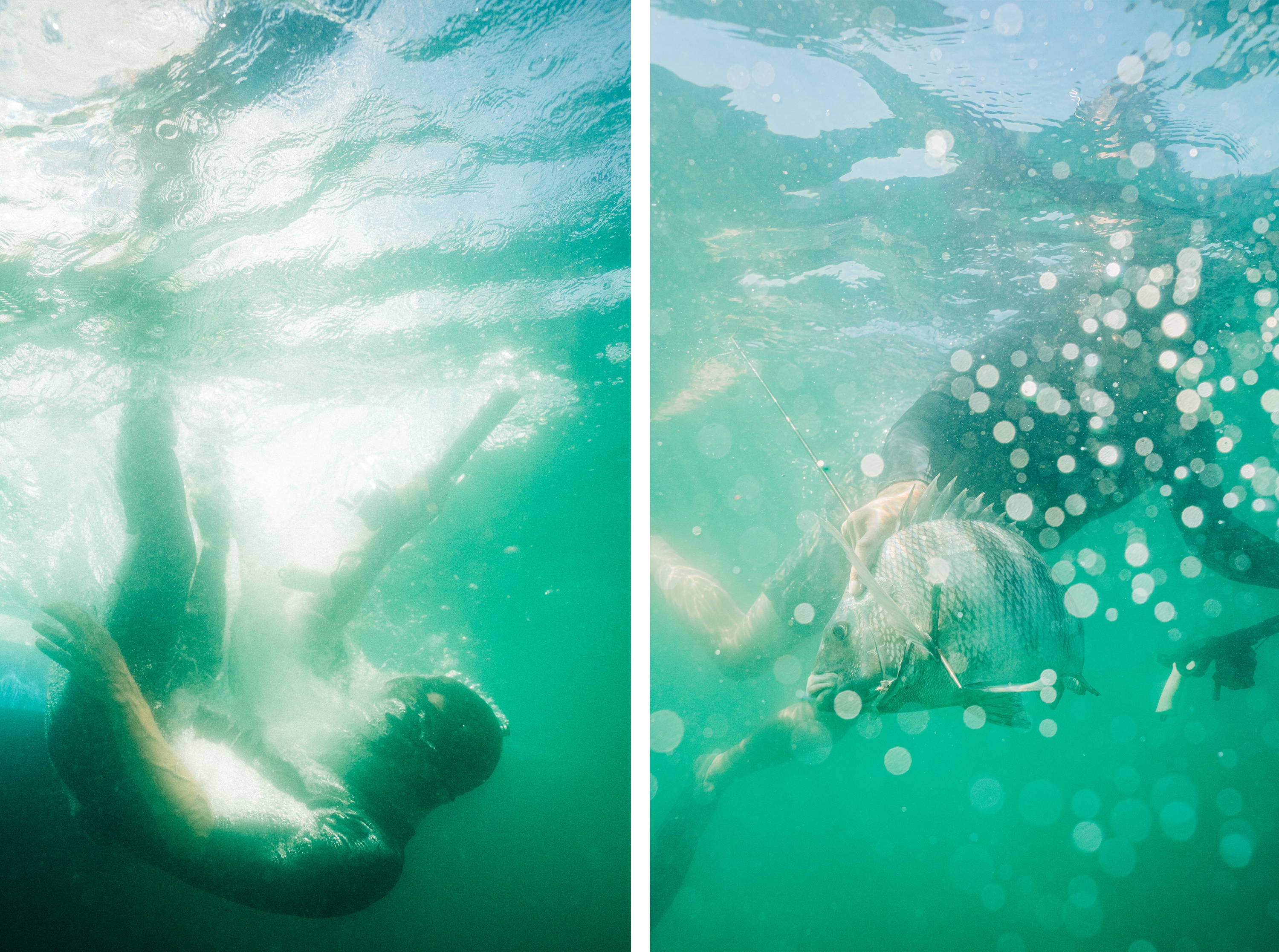 Looking for a change in pace from albie fishing, a lightbulb seemed to go off in Captain Ben's head.
"Want to go spearfishing?", he said. Not to be the kind of folks to turn down a plunge in the water, we graciously accepted his offer, even if we were curious exactly where this adventure would take place. A quick jaunt across the bay popped us out at a jetty where we anchored the boat, donned wetsuits and flippers, and hopped on in. Before we knew it, we filled the grocery cart — Capt. Ben's fish locker — with plenty of sheepshead and a few blackdrum to boot. Fresh fish tacos were on the menu.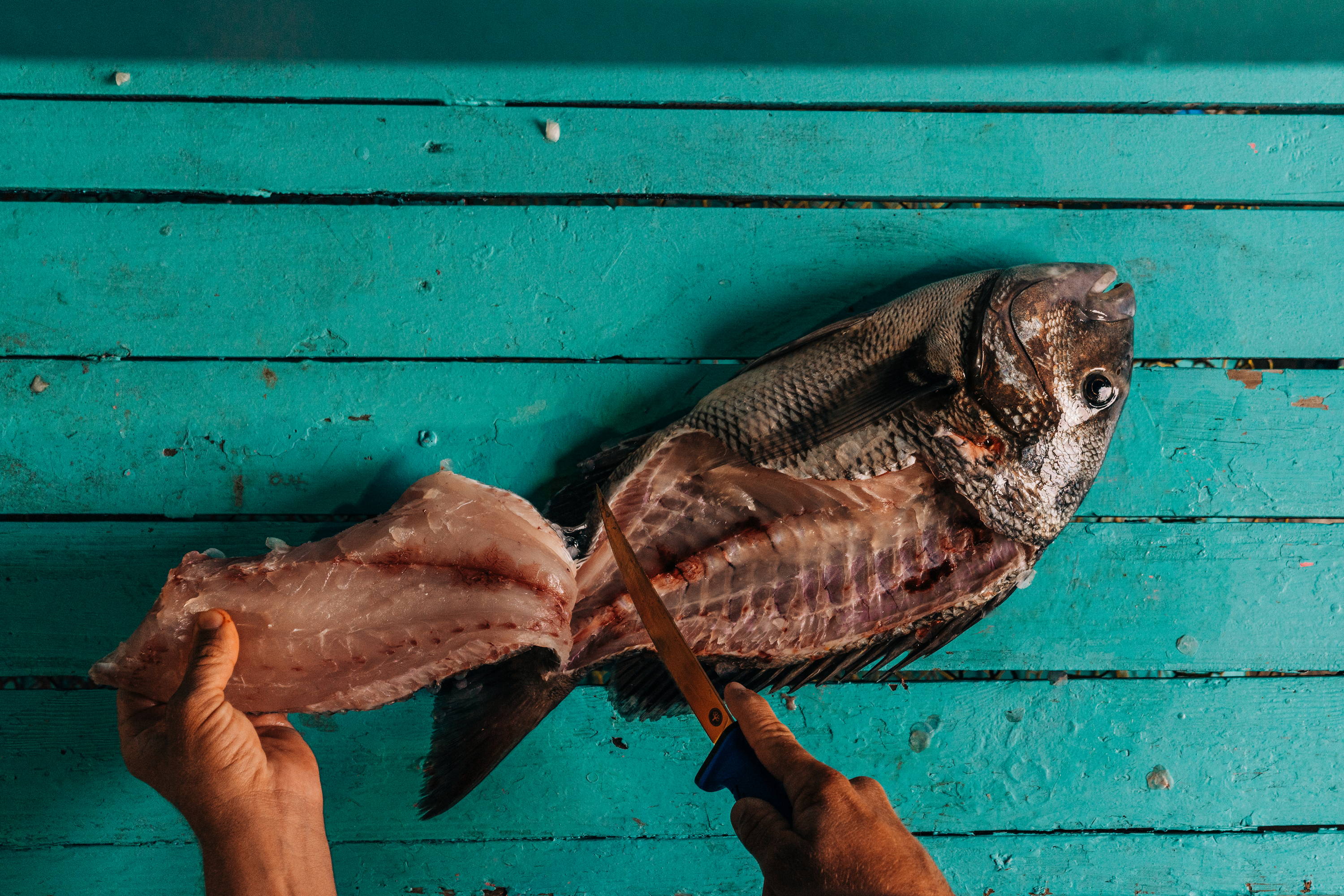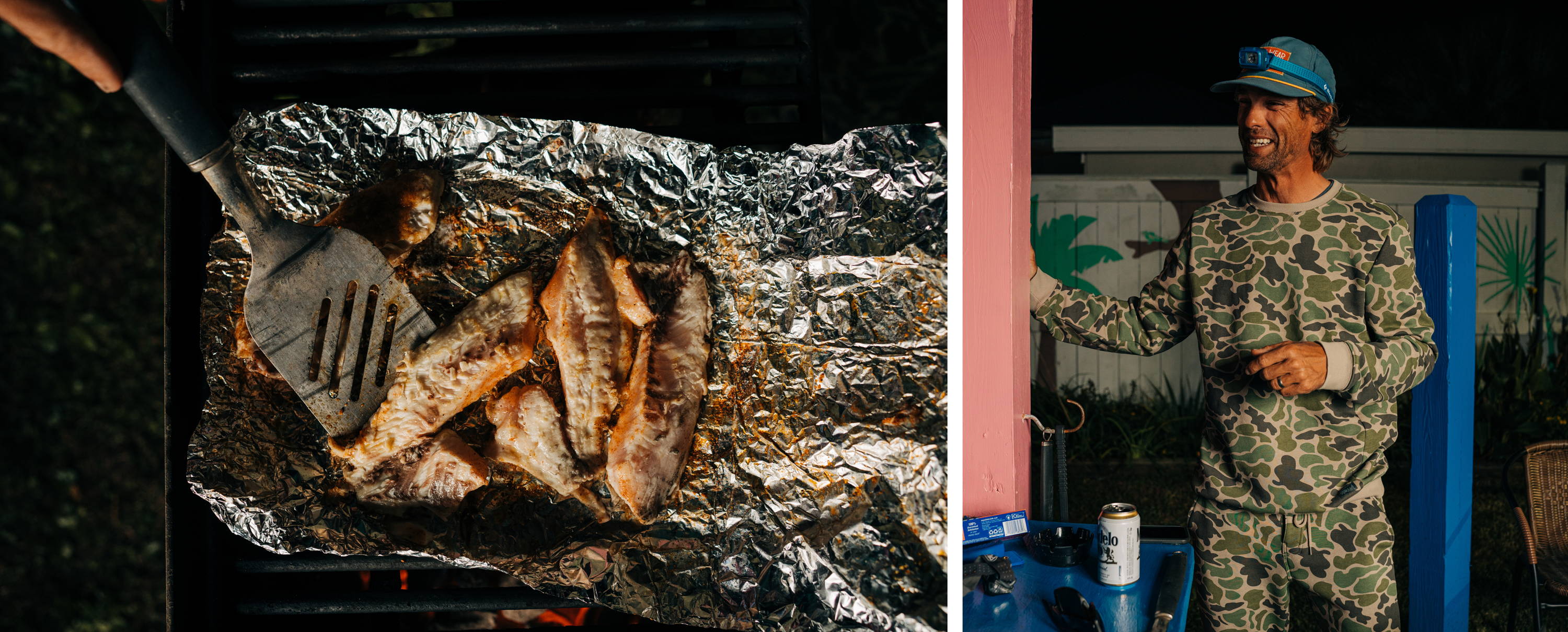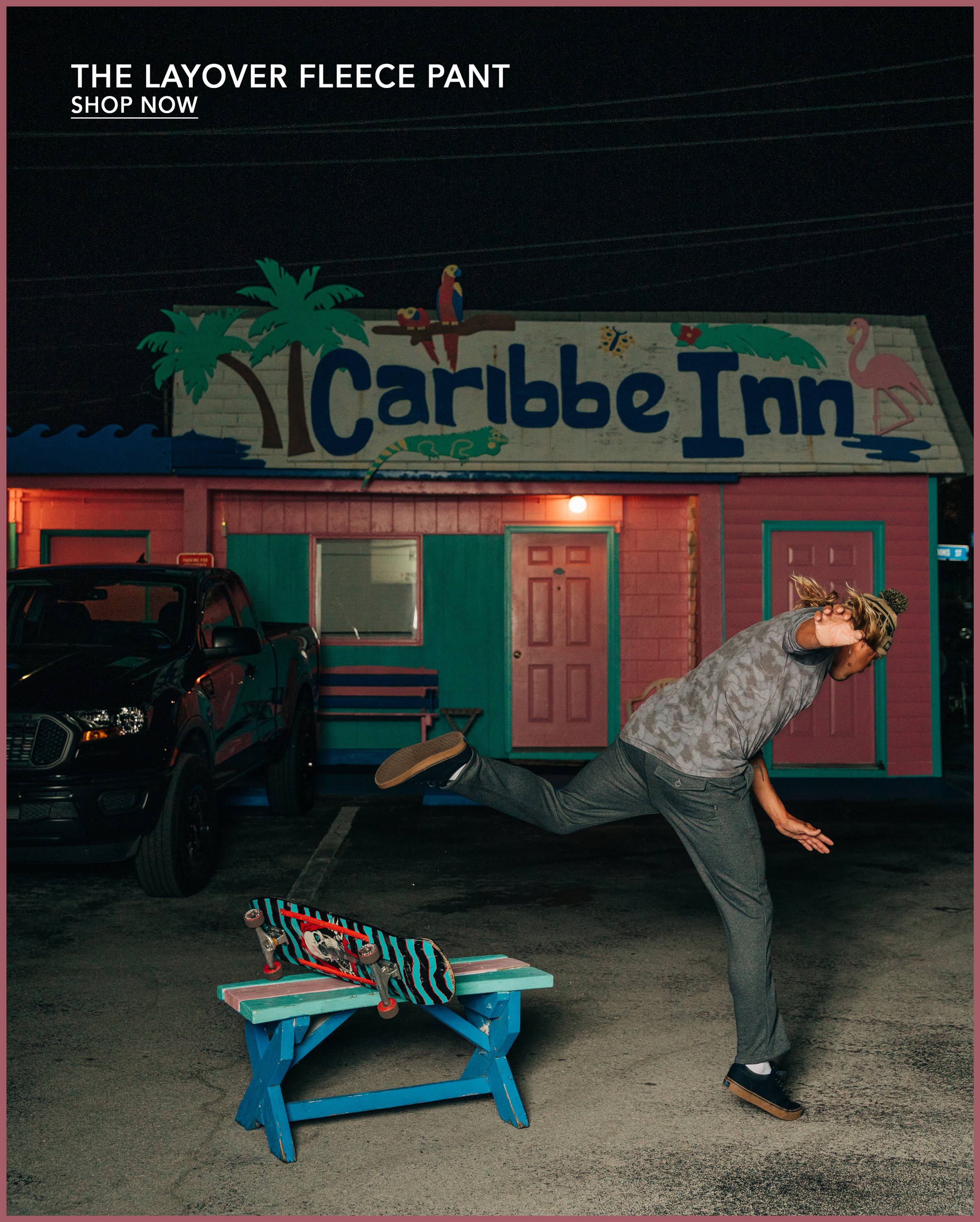 The Caribbe-Inn, our motel, was painted like the inside of Barbie's doll house on the outside and wall-to-wall fish murals on the inside that made it feel like you were sleeping in some sort of halucinogenic aquarium. The parking lot on the other hand, lent itself nicely to skate tricks and grinds.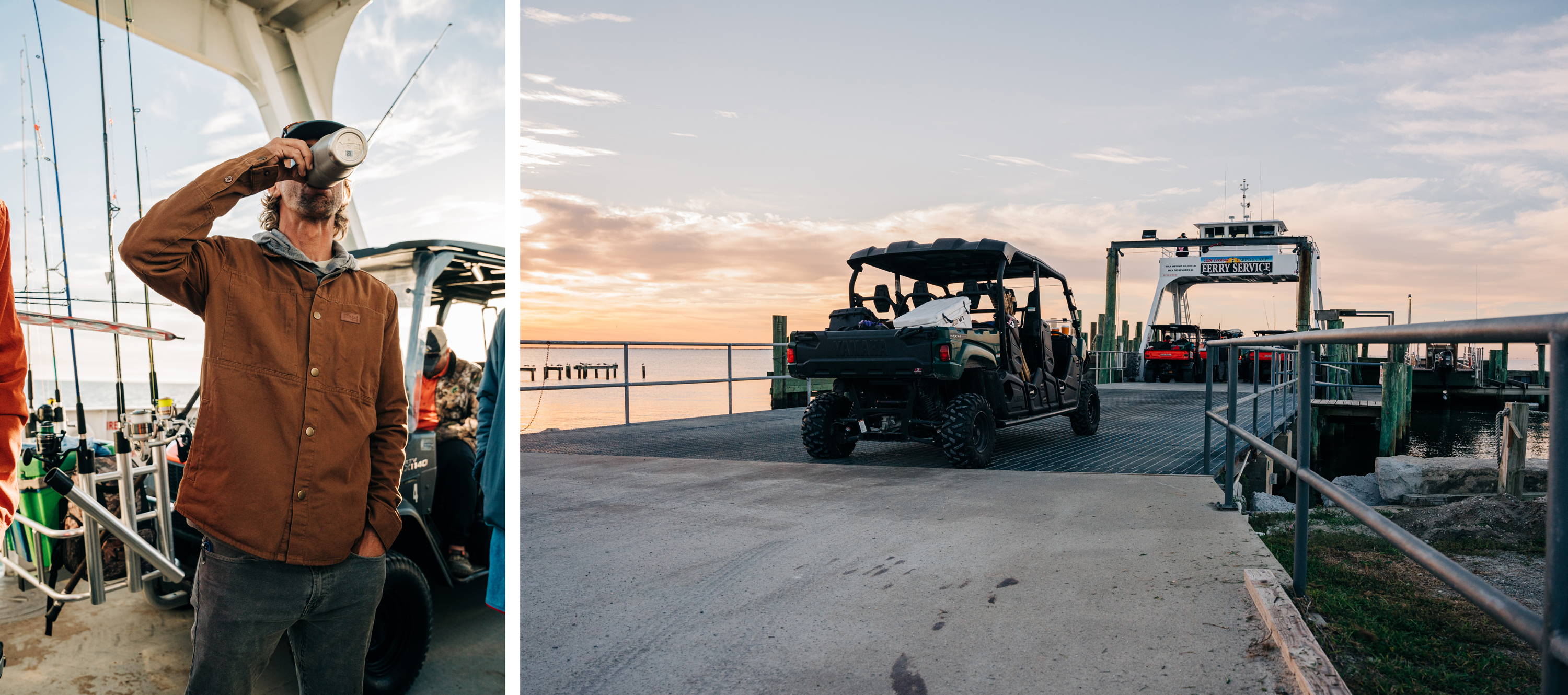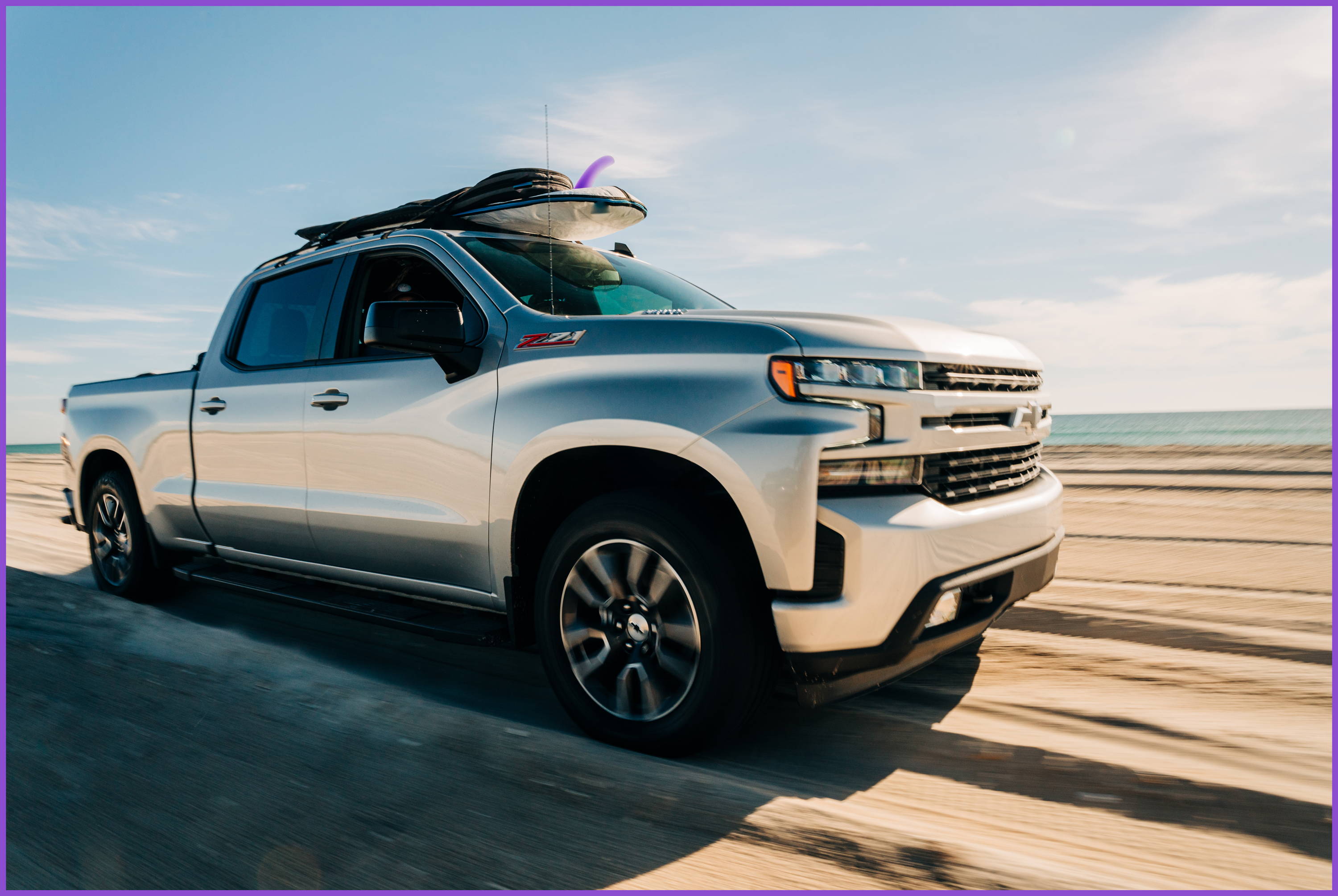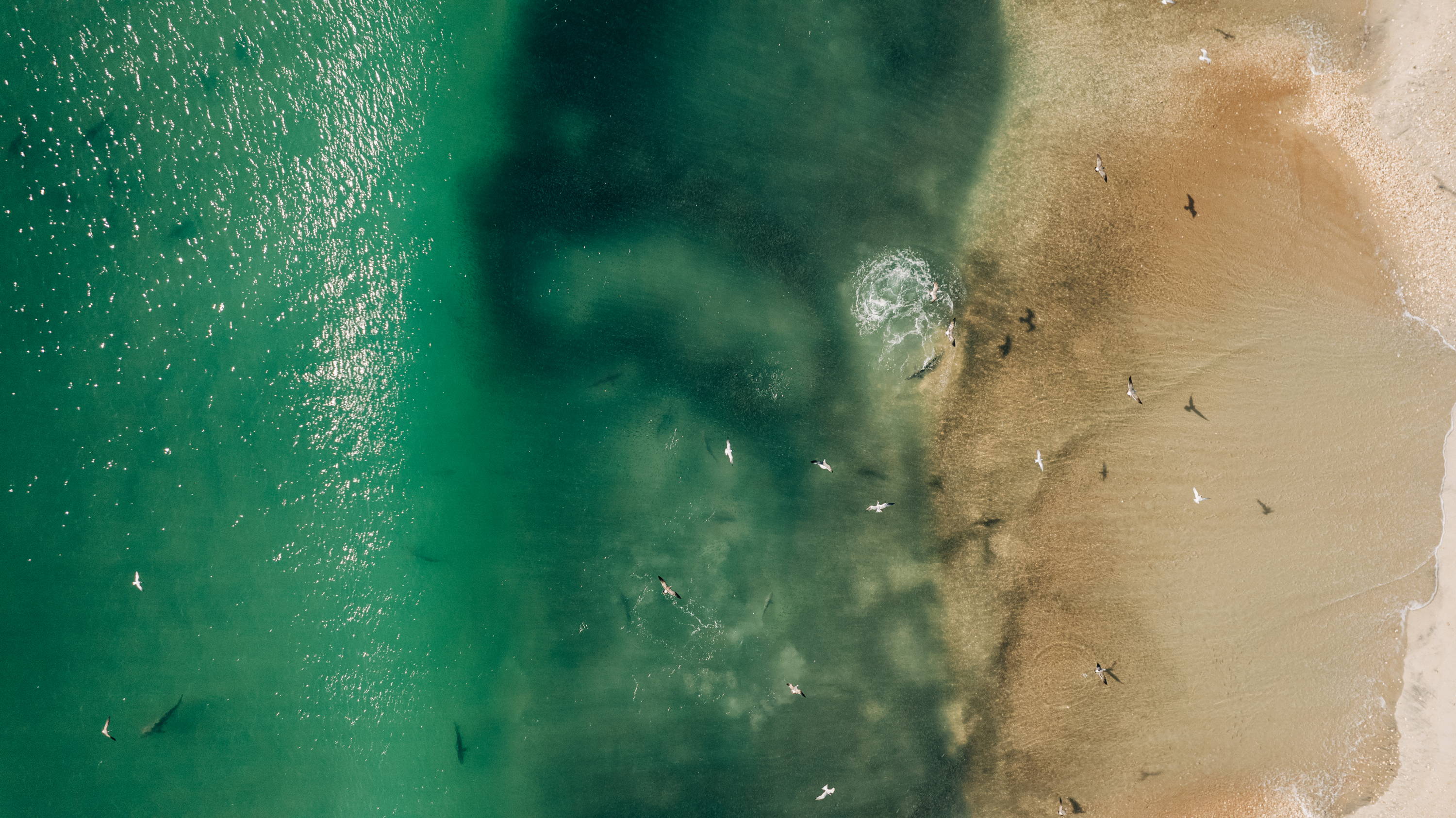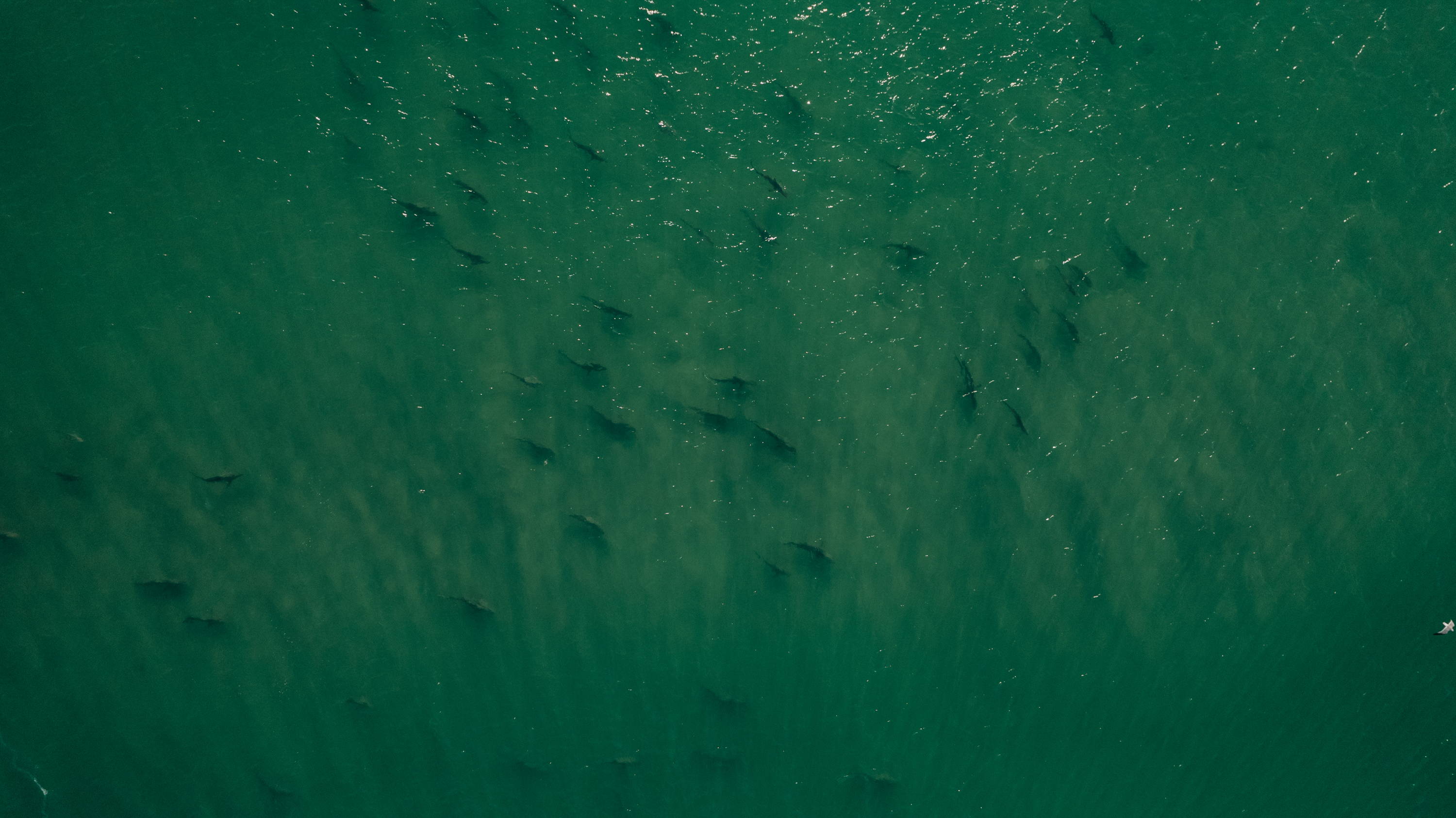 In hopes of catching a few waves, a handful of beachside fish, and maybe a comfortable buzz, we headed over to Cape Lookout national seashore with packed-full trucks, a 4x4, and high spirits. In turn, what we found was knee high baby waves and thousands of sharks in the midst of a mad dash feeding frenzy. Nonetheless, the shark spectacle combined with a handful of spanish mackerel and a quick wakeskate sesh behind the 4x4 kept spirits plenty high.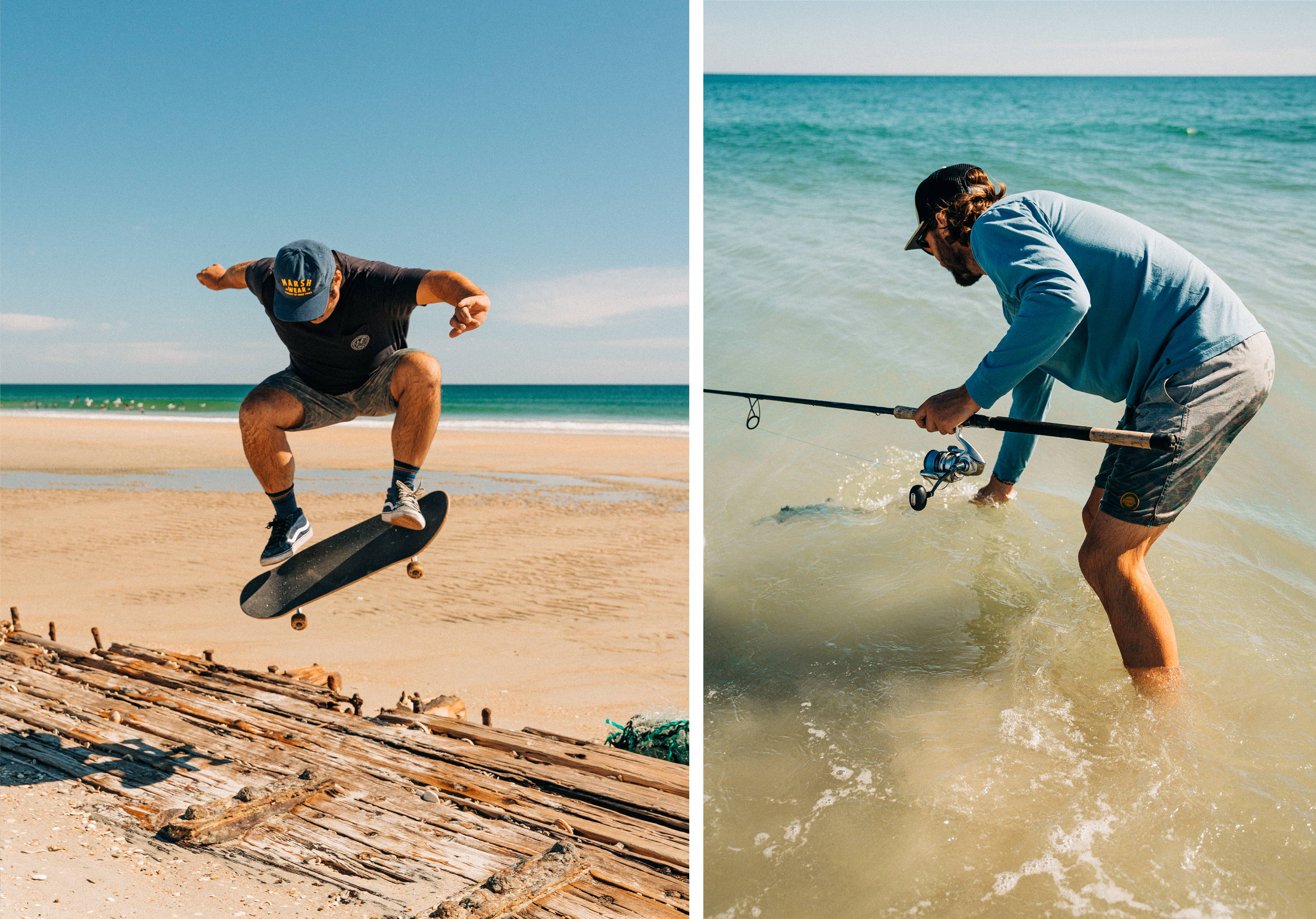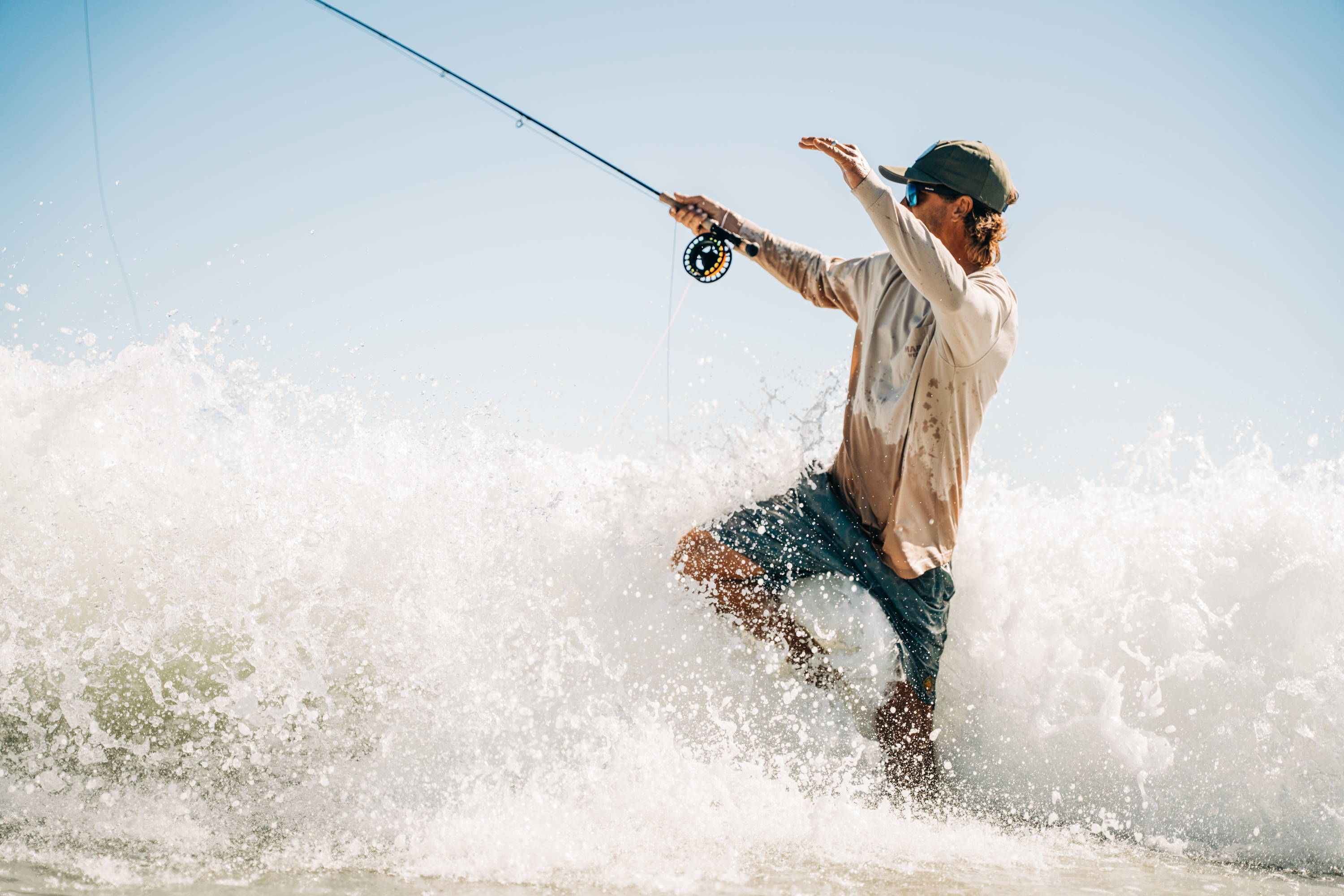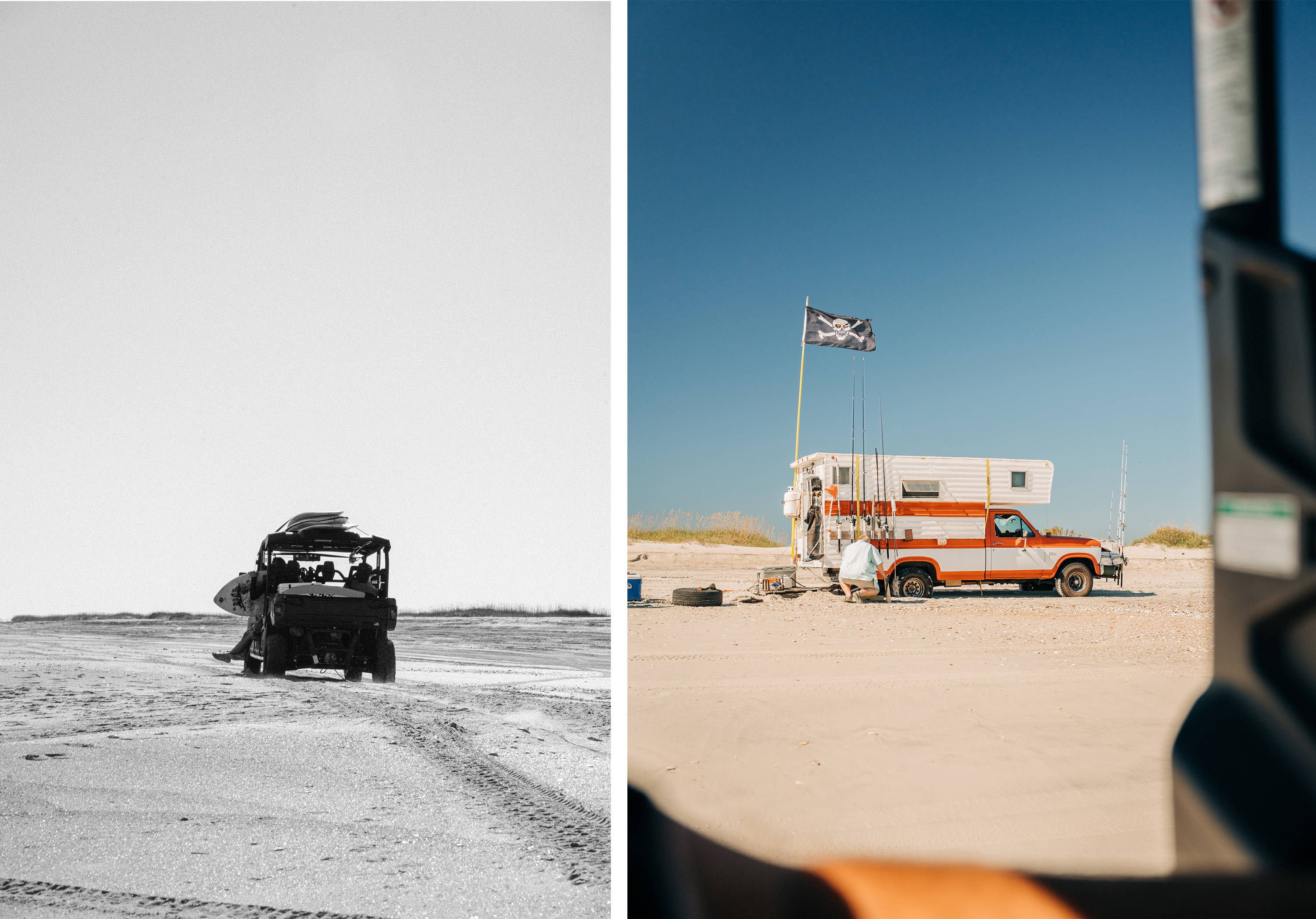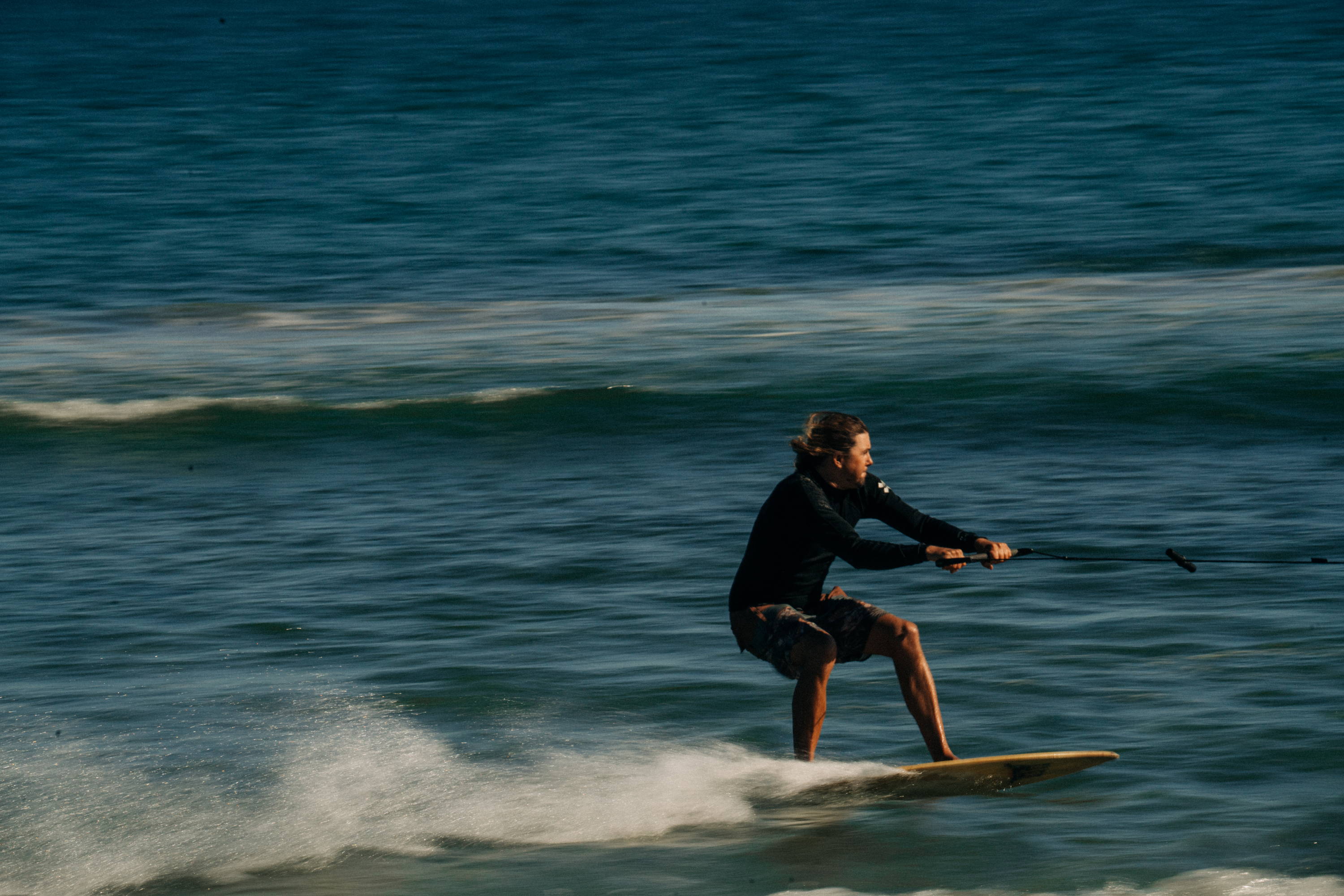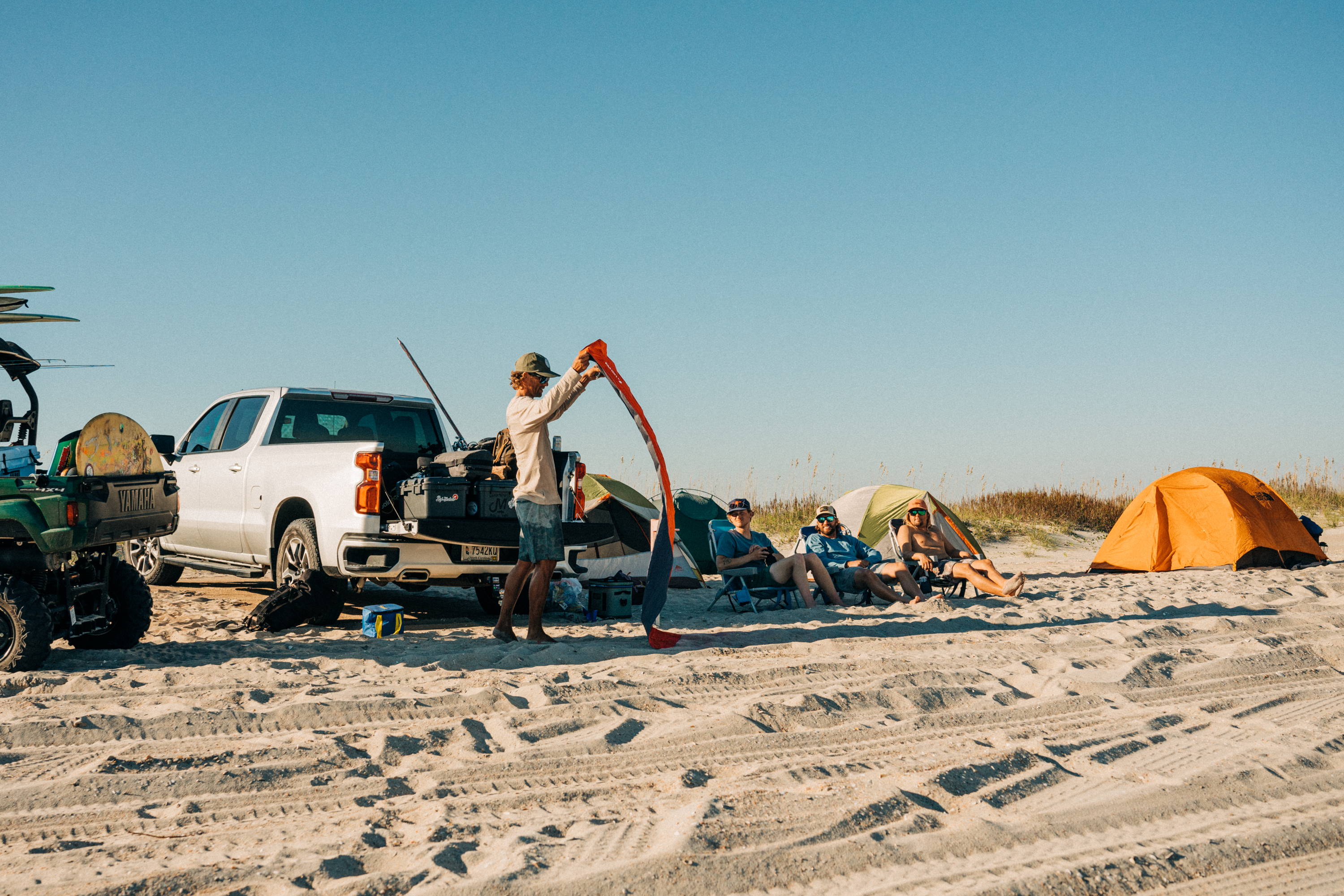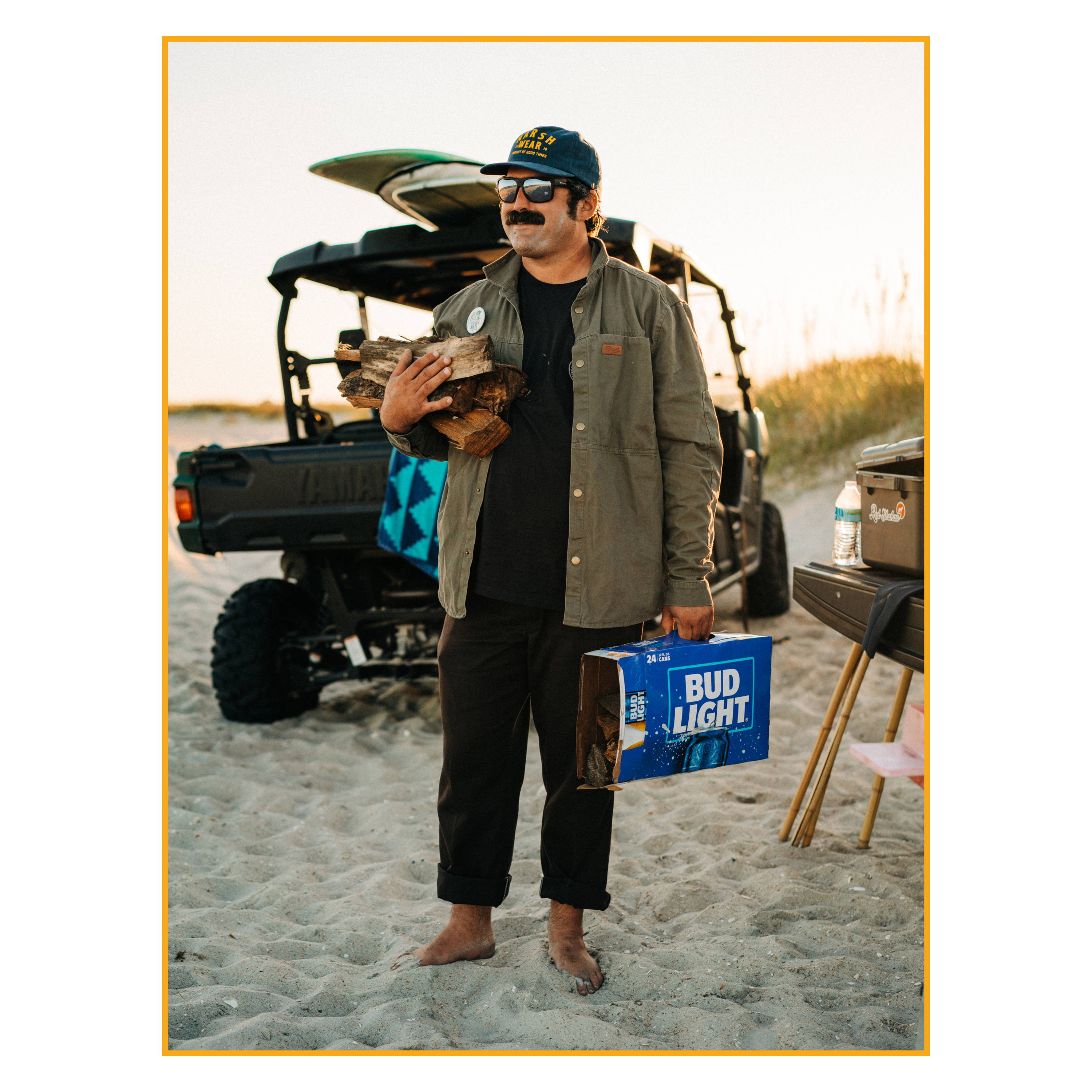 After a long day of shananigans, a beachside fire and kebabs prepped on top of the cooler made for a fitting end to a great trip. Regardless of mother nature's unexpected changes to our plans, good times with great folks seems to always do the trick.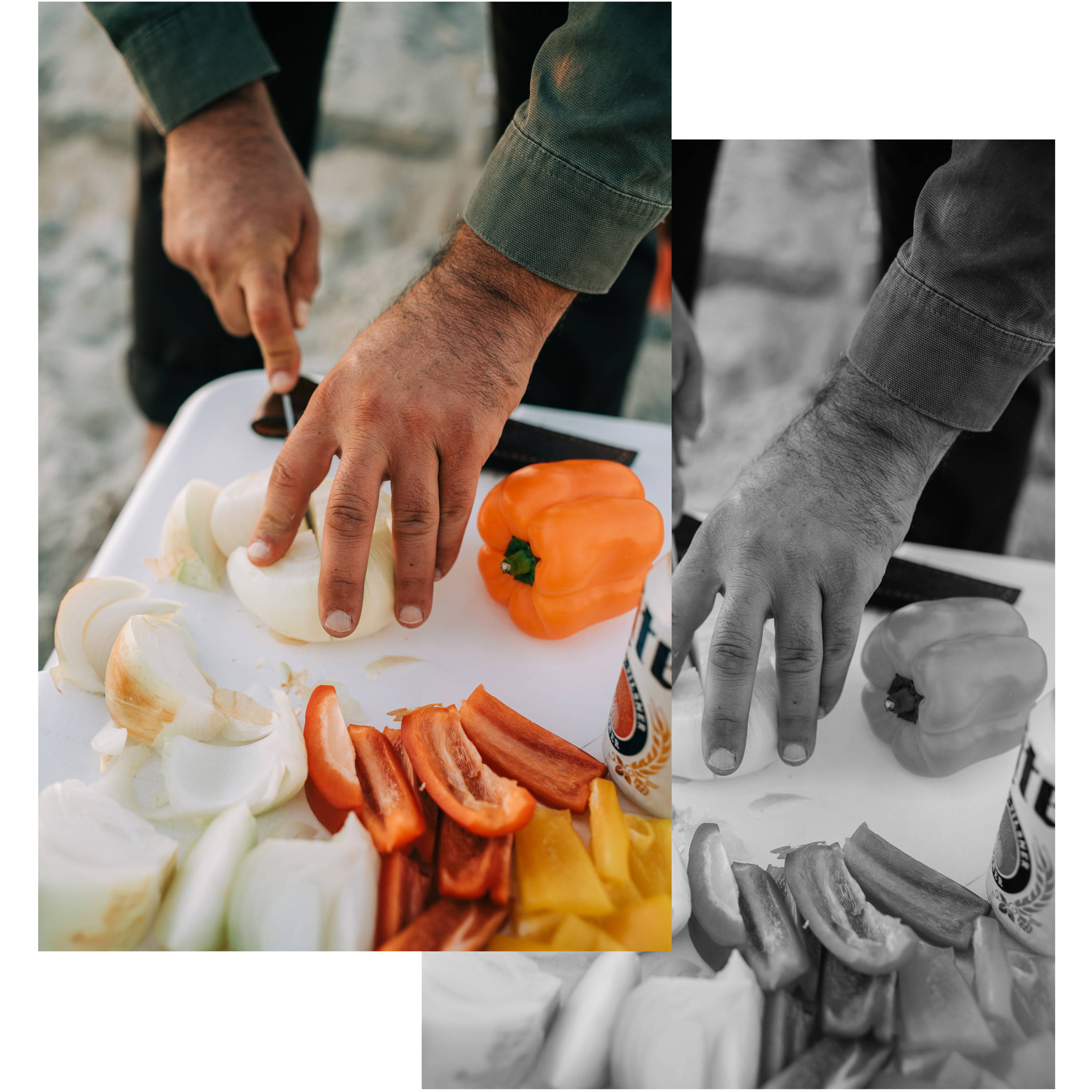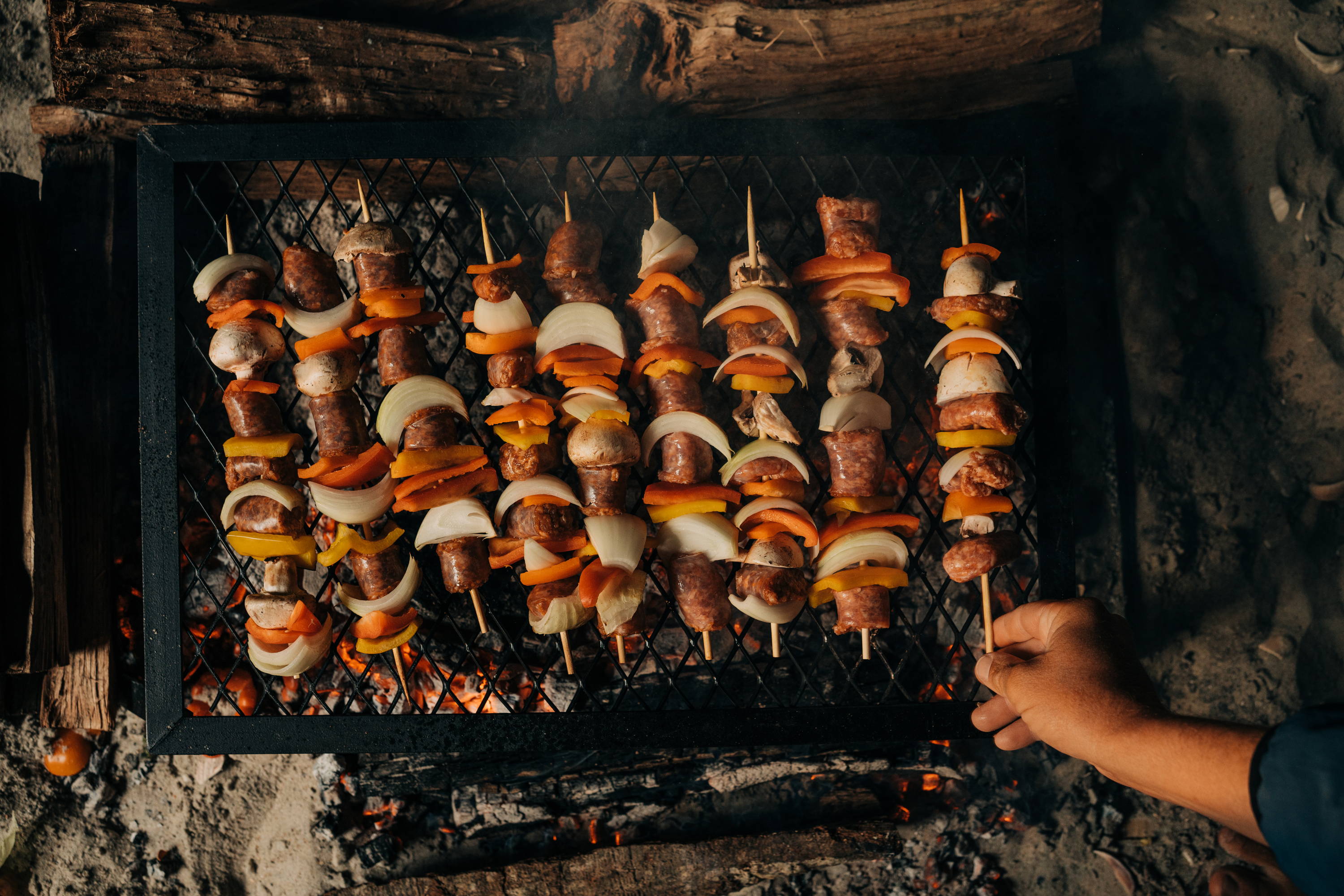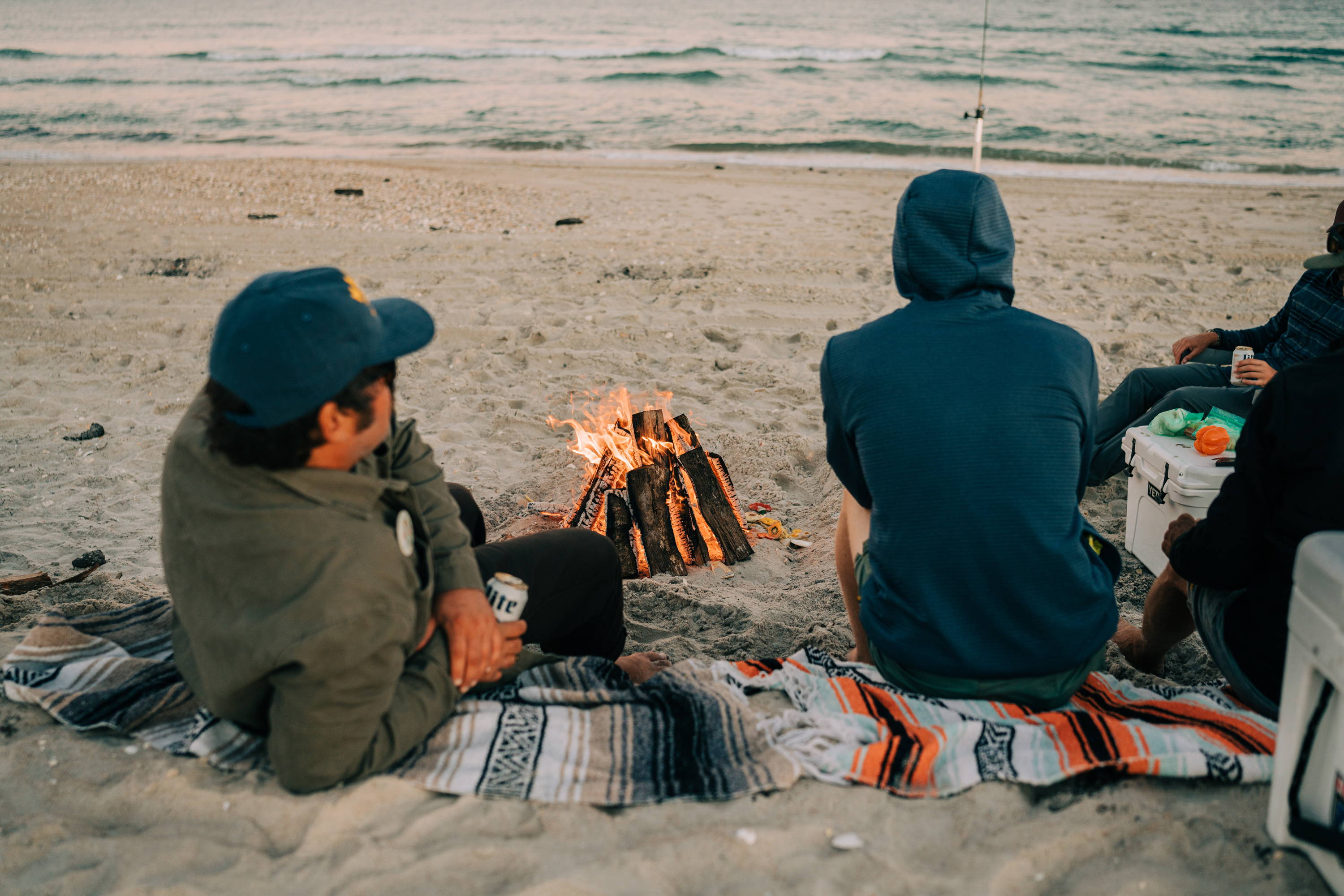 Naturally, no trip would be complete without some wildcard debauchery. Gas station nunchucks and a sunrise martial arts session closed out a couple of well-spent days nicely. No coffee needed for this one.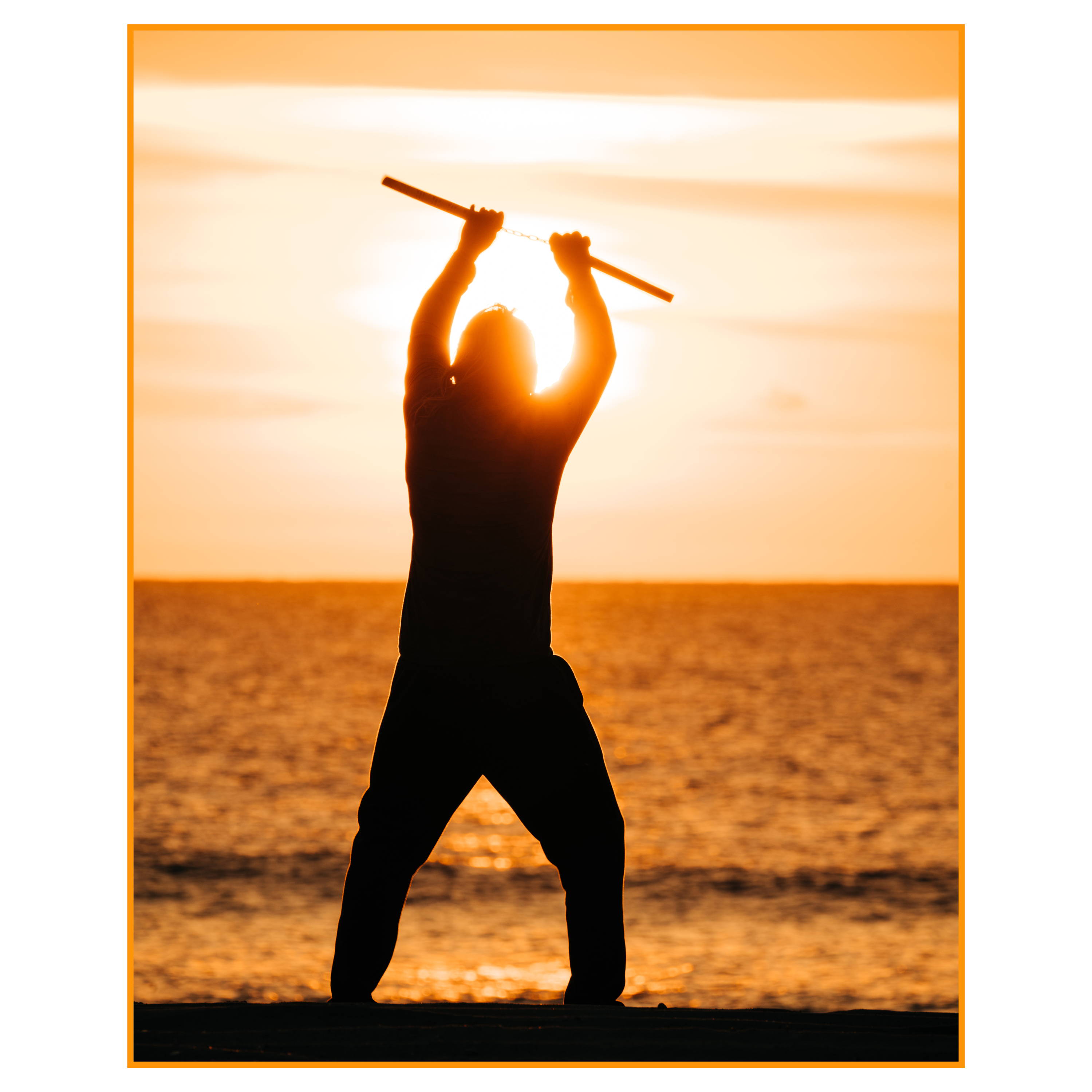 ---
Our seasonal trips are crafted to put our newest products to the test (and have a little fun along the way). Cape Lookout didn't disappoint in the fun-factor or in the "test"-factor. Grueling days in extremely rough seas and camping out on a cold Eastern North Carolina evening gave the new line of products an easy passing grade. Take a look below at some of the top-of-class performers.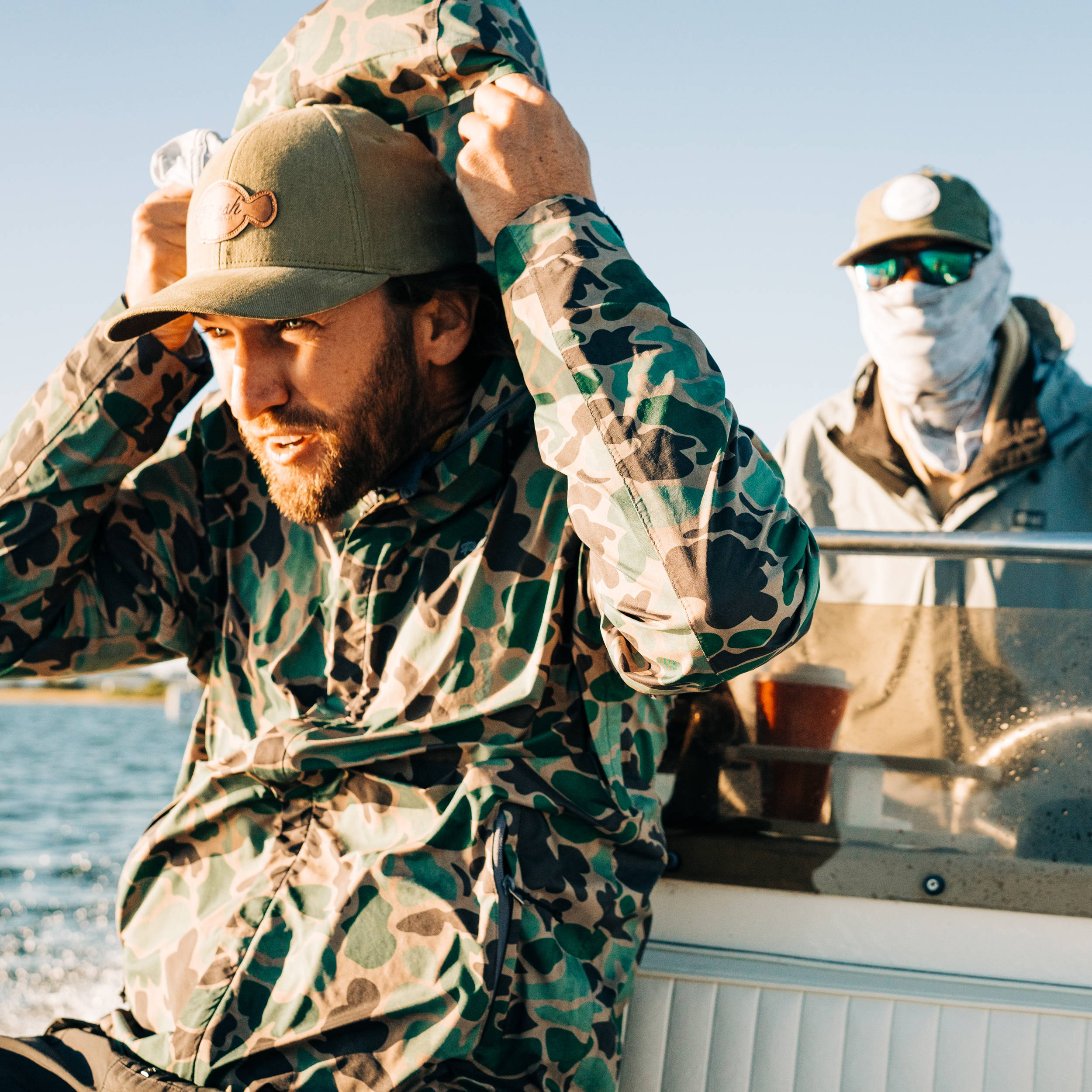 Soon to be released (very soon!), the Gulfport Rain Jacket was a show stopper. Made with 2.5 layer waterproof nylon, these rainjackets kept that cold seawater out and the good times rolling just a little while longer. Signup for product alerts to be notified when it's released.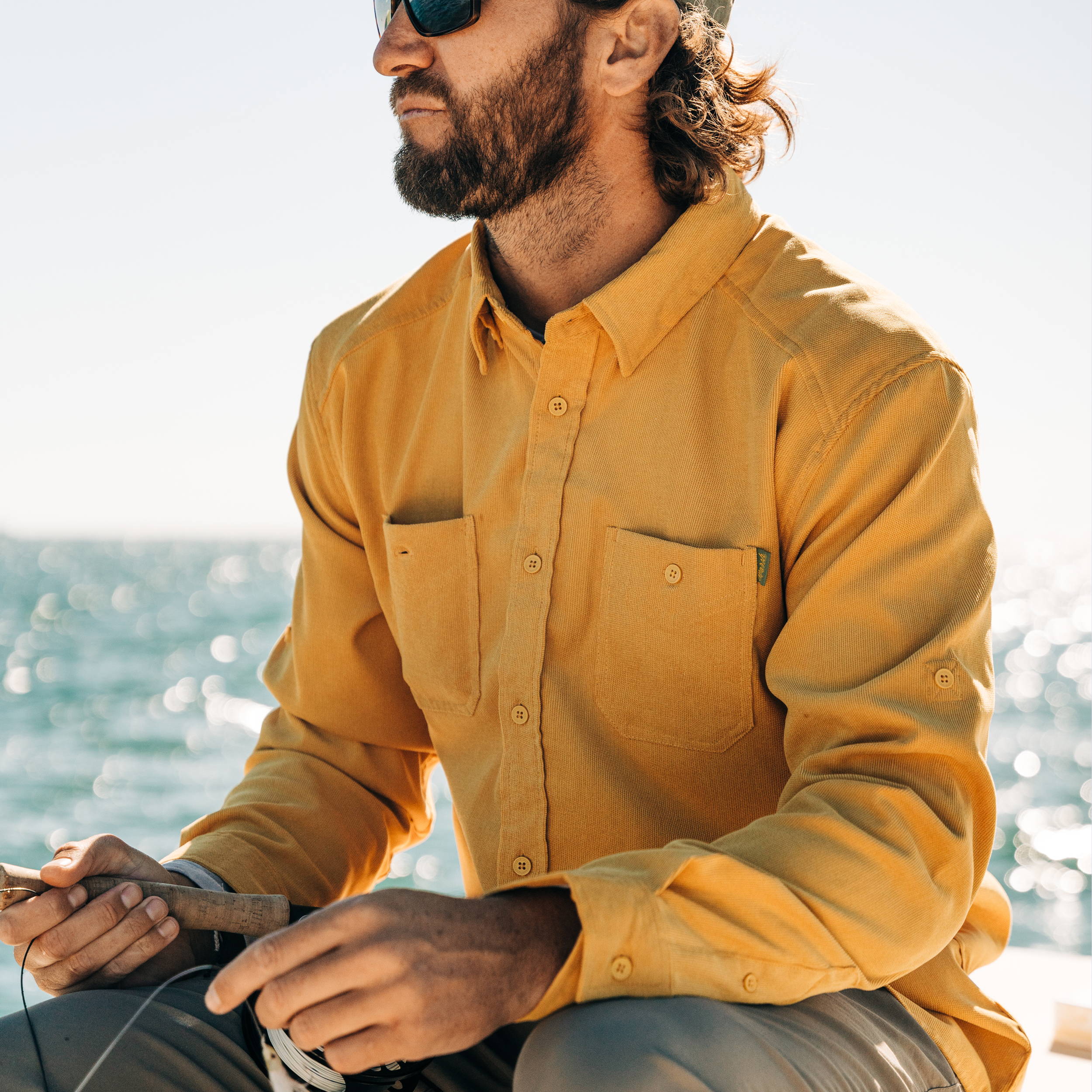 An extremely comfortable and versatile button down, our cordy shirt was as much at home on the boat, plowing through waves and fighting albies, as it was kicked back fireside on the beach. Our Cordy shirt is made with just the right amount of stretch for all day long comfort.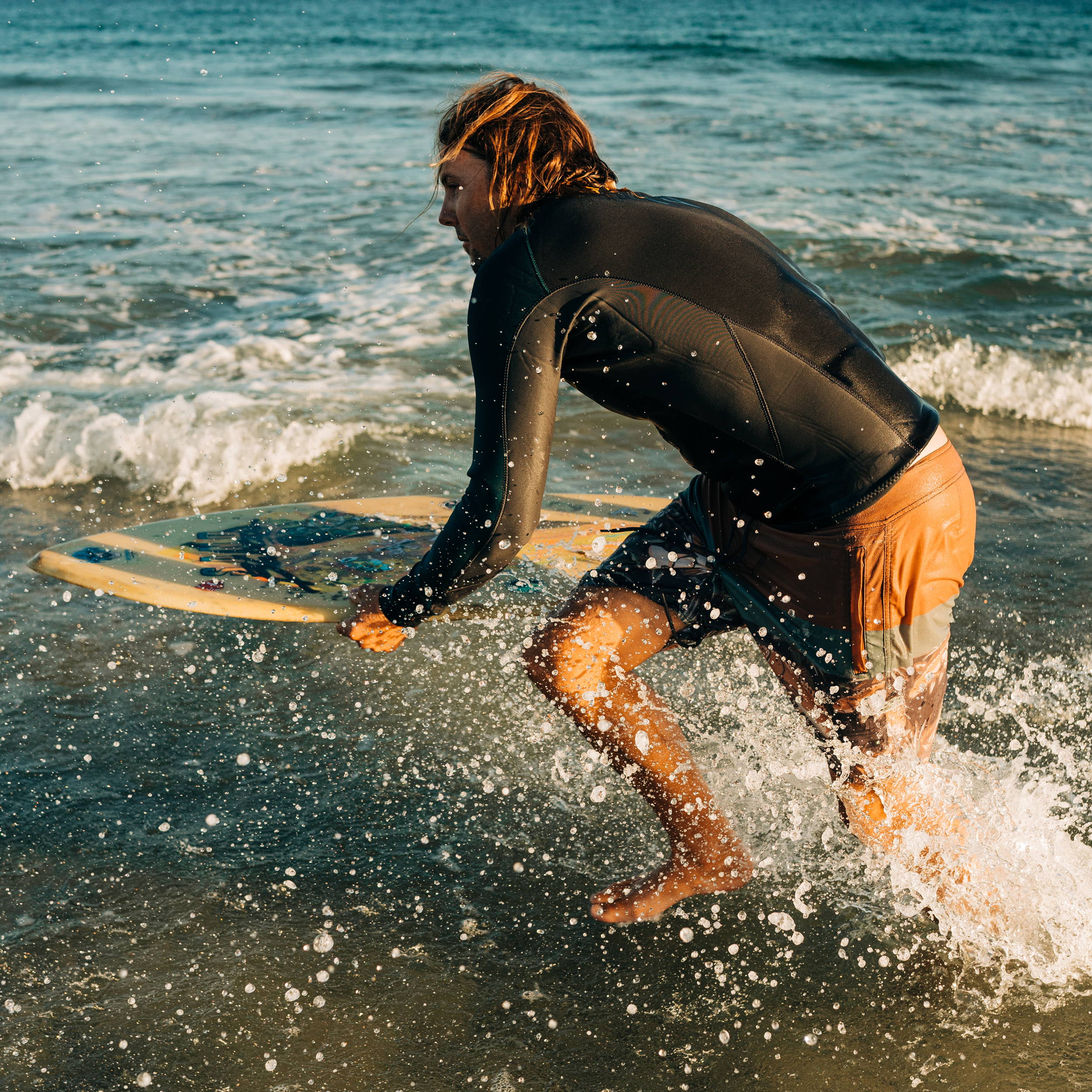 While not necessarily one of our new items, our boarshorts saw more use than expected this trip. Between spearfishing along rock jetties and getting towed on a wakeskate behind the 4x4 (as well as a quick session of "SKIM"), they hold up nicely to any and all activities in or around the water.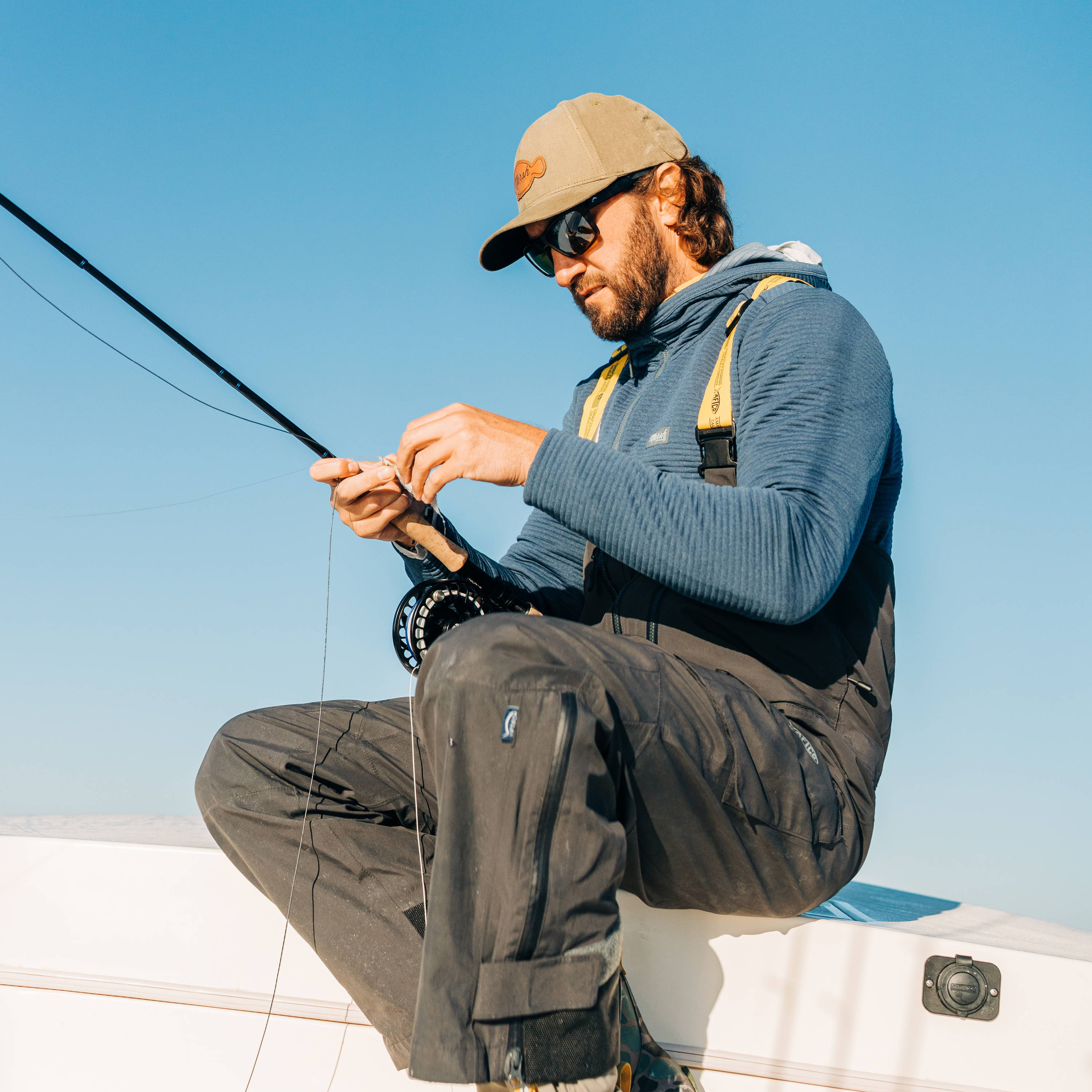 We can't seem to say enough good things about this hoodie. Made out of a baffle fabric borrowed from the sleeping bag industry, this jacket helps keep you warm when you need it. but comfortable when you don't. Plenty handy when the day's temperature fluctuates heavily.
---